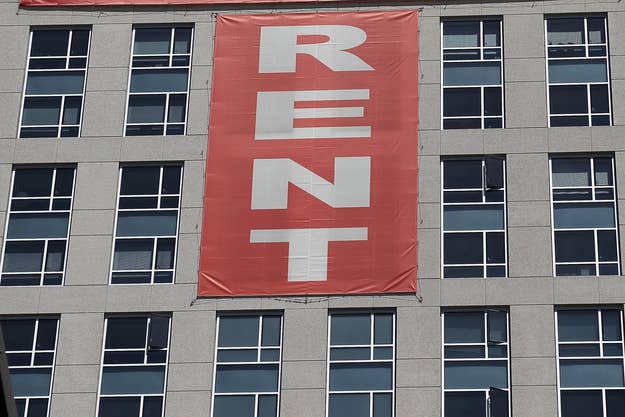 When the housing market collapsed and Americans no longer had the income or access to easy credit to buy homes, they still needed a place to live. The answer? More renting than ever before. A new report released today by Harvard's Joint Center for Housing Studies, "America's Rental Housing: Evolving Markets and Needs," finds that there are 43 million renter households. That's 35% of all households, the highest rate in more than 10 years. What's new isn't just the number of renters, but how they're paying: 21 million renters — about half of all renters — are paying more than 30% of their income in housing. In 1960, it was only about a quarter of all renters. Here's what America's renter present looks like, and maybe its future.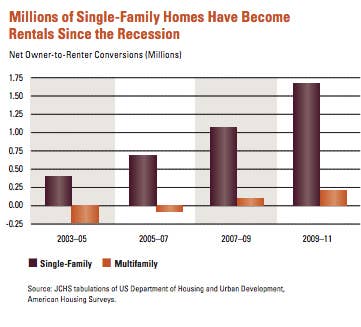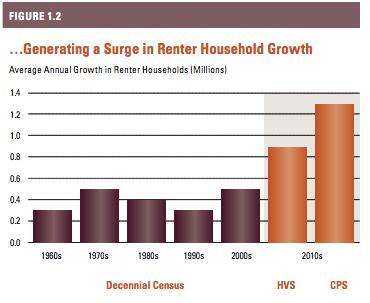 Before the housing crisis, between 2003 and 2005, less than half a million single-family homes were converted to rentals. And when it did happen, it was likely to be done by small, local businesses that might buy and rent out a few homes at a time. Following the housing crash and then the massive number of foreclosures, the market for rental homes exploded: never before had there been so many homes to cheaply buy, and so many people who needed somewhere to live but weren't able to buy. Enter private equity firms like Blackstone, which has alone spent $2.5 billion on thousands on homes that it's now renting out, and you get almost 2 million homes converted to rentals from 2009 and 2011. In Miami alone, largest investors have bought up 30% of the available foreclosed properties.
The demographics of renting are changing and looking more like the country as a whole.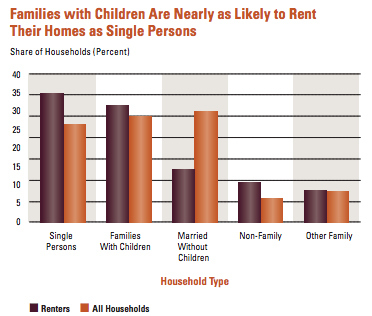 While the stereotype of who rents is true to some extent — a greater proportion of single people rent than married couples or households with children — that is starting to change. In fact, families with children are approaching singles in the percentage of them who are renters and "the share of families with children among renters is higher than the share among owners," according to the Joint Center study.
Going forward, the authors project that the rental population will look a lot like the country as a whole: "Mirroring overall population growth, minorities will contribute virtually all of the net increase in renters over the coming decade, with Hispanics alone accounting for more than half of the total."
For low-income renters, the rent really is too damn high.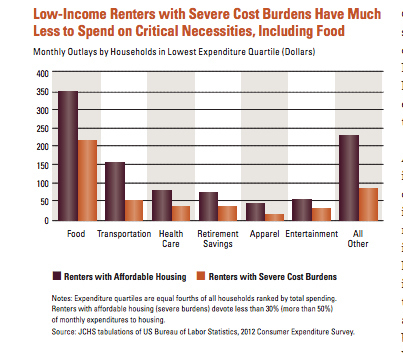 One reason for the rental revival is that people's incomes are putting home ownership out of reach, which also means that rent is eating up a higher and higher portion of their paycheck. Paying 30% or more of income for housing is considered the level over which a renter becomes burdened" and by 2010, about half of all renters were paying that much. The share of renters paying half or more of their monthly income in housing has also hit what the Joint Center is an "unimaginable" level of 27%, or 11.3 million, of the renting population.
Not only do low-income people tend to pay a higher proportion of their incomes in rent, but their rents can be more expensive compared to mortgage payments of low-income homeowners. For households that spend less than $15,000 a year, renters tend to pay $500 more for housing and end up cutting elsewhere, including $130 less for food.
And rent is going up for not just the poor, but everyone else too.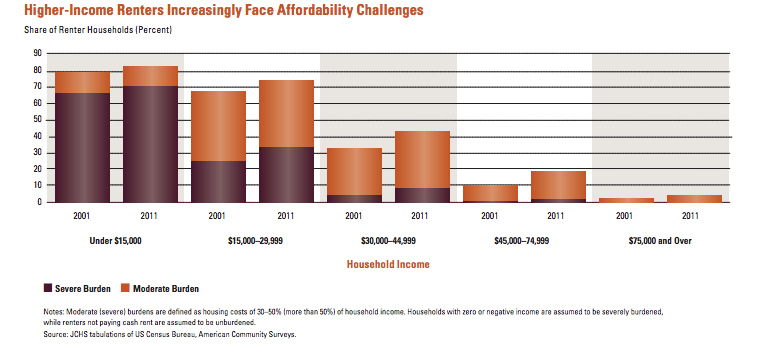 Similar to the overall cost of housing, rents started to slow down in 2007 and then took a nosedive in 2008 before bottoming by 2010. Since then, rents have started growing at 2.8% a year, outpacing overall prices for all goods and services. According to one firm, rents have increased in the past year for 90 of 93 metropolitan areas.
While the poor obviously face the most severe burdens in paying rent, affordability problems are starting to pop up for the middle class as well. The proportion of renters with incomes between $45,000 and $75,000 who pay 30% or more of their income in rent almost doubled in the 10 years between 2001 and 2011.
BREAKING: New York and Los Angeles have lots of renters.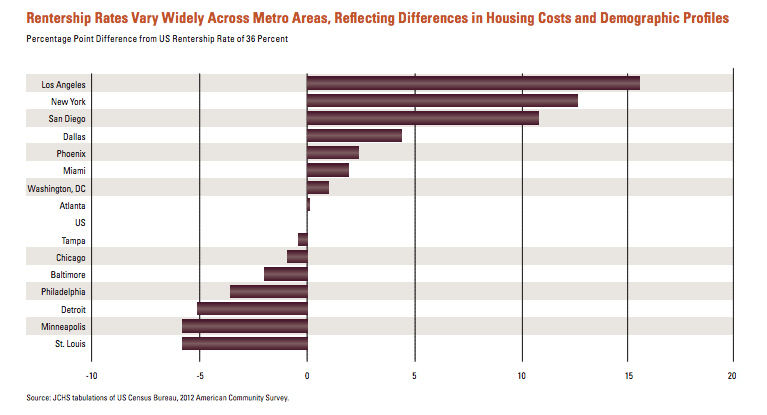 While there are some very clear broad trends in the rental market, a lot still comes down to location. Simply: The bigger a city is, the more renters there will be. This is especially true for dense cities with high land prices. And so Los Angeles and New York have renter rates over 10 points higher than the overall national rate of 36%, while spread out Midwestern cities like Detroit, Minneapolis, and St. Louis all have many fewer renters than average.
Correction: The definition of a "burdened" renter is when someone pays 30% or more of their income in rent every month. An earlier version misstated the "burdened" threshold. (12/9/13)