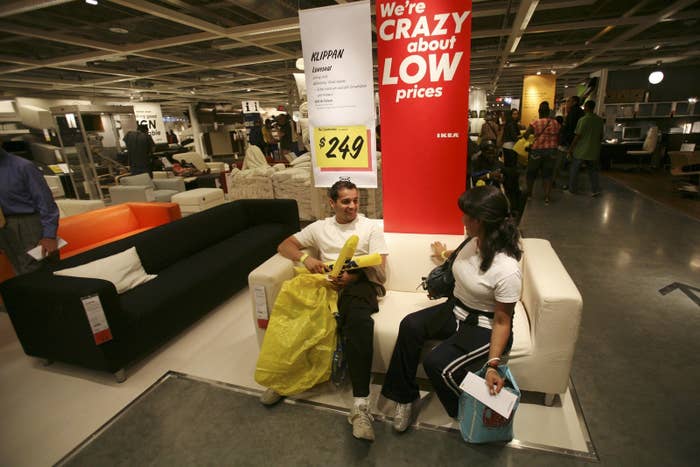 Companies trying to sell couches, or apartments, or pretty much any other signifiers of adulthood are being reshaped by a simple fact: many young people simply aren't in the market for their stuff anymore.
The financial crisis and weak economic recovery locked millions of young people out of the labor force, and for many who do have jobs, they're not particularly well-paying ones. Those jobs leave people burdened by student loans and unable to build up the cash needed to get a place of their own.

The data is striking and unambiguous. More young people are living at home, fewer are creating new homes together with a significant other, and it's a stark reversal from before the financial crisis. In the eight years from 2007 to 2015, the number of Americans aged 18 to 34 increased by 3 million, but the number living away from their parents decreased by 500,000.
Economists often talk about "household formation," and it's a crucial part of the economy. When people leave their parents and create a new home — as couples or roommates, or a new family — they spend money on everything from shower curtains to a couch and an internet connection. There's an entire economy built around this: Home Depot alone sold $95 billion worth of stuff last year.
When household formation slows down, the pain is felt throughout the system. And it slowed significantly after the crisis.
Between 2008 and 2016, America added an average of 835,000 new households per year. For the 50 years prior, it was 1.3 million per year, according to the National Association of Realtors — and that's including decades when the US was home to at least 100 million fewer people than today.
And while the rate of household formation has picked up somewhat in recent years, the number of young people living at home has hit generational highs, and the number of people living with partners has plummeted. In 2015, for the first time in at least 130 years, young people were more likely to live with their parents than a partner.
Back in the mid-1970s, 57% of young people lived with a partner. That had fallen to just 39% last year.

"Within the last 10 years, the breadth and speed of change in living arrangements have been tremendous," a recent Census report says.

The single biggest factor in all of this, argues Jed Kolko, the chief economist at jobs site Indeed.com, is a basic change in how we live. "Young people are marrying later," he said. "This is a many-decades-long trend."
Almost half of all 18 to 34 year olds were married and had kids in 1975, Kolko said. That was down to just 20% in 2015.
But if your plan to win the business of younger customers involves waiting for them to grow up and get married, you might have a long wait on your hands.
The bulk of the so-called millennial generation is aged between 23 and 27. "If we're expecting a demographic driven boom in home ownership, that's at least 5 years away," Kolko said.
Instead, household formation is being driven by older people, who are now becoming the prime movers in creating new homes.
That's an important detail for companies whose bread and butter is the home: builders, furniture and DIY retailers, and the constellation of businesses that fill up people's houses with stuff. Their prime customers are aging, and this could mean dealing with smaller homes, or homes with single floors (aging knees and backs hate staircases), surfaces that need less active maintenance, larger bathtubs, and even wider hallways and doors.
"A very important remodeling issue now is making homes that boomers and seniors want to stay in," Kolko said. An AARP survey found that 87% of people over 65 want to remain in their current home and neighborhood as they get older.
A surprising variety of businesses are set up to capitalize on this.
"The concept is known as aging in place," said Aaron Jagdfeld, the chief executive officer of Generac, a generator company, at an investor conference in 2012. "Putting a backup generator on a home for somebody who plans to be there for the next 15 or 20 years during retirement is absolutely becoming a necessity."
"That 65-year old target is growing 3x what the average population growth is growing," he said. "A big, big opportunity."
And there's another reason even the trendiest of home retailers may want to be thinking about their grey-haired customers. Where do you think the 20-somethings at West Elm are getting their money from?
"The bank of mom and dad is our current customer," the CEO of West Elm parent company Williams-Sonoma told investors on a call in 2015. "Student debt is greater than all credit card debt and substantially greater than all car financing debt. So that has to get paid off. One third of all millennials who were buying a home were getting help from the bank of mom and dad."
More from this series: