The cost of a government program to reduce student loan repayments will run to at least $74 billion, the Government Accountability Office said in a report Wednesday, at least double what the Education Department had previously estimated.
The cost to the government covers loans made between 2009 and 2016, and it could still increase if more borrowers from that period enroll in the programs they're eligible for.
Just over 5 million borrowers — about a quarter of all students who get direct loans from the federal government — are currently enrolled in the income based repayment system, which fixes monthly loan repayments at a percentage of income, and forgives the remainder of the loan after 25 years of payments.
For loans made in the last seven years, the cost of the program will be twice what was originally estimated, according to the GAO report, largely because more students signed up for it.
Another estimate showed showed that of the $352 billion of loans made from1995 to 2017 that are either in income-based repayment plans or eligible for them, only $215 billion will likely be repaid by borrowers. Of the rest, $108 billion will be forgiven by the government and $29 billion will be discharged because of death or disability.
The Education Department argued to the GAO that even if outstanding loan balances are eventually forgiven, "it is possible for the government still to generate income" from such loans, due to interest payments. The GAO replied that forgiven balances are still a "foregone cash flow to the government."
Overall, the GAO slammed the Education Department for not putting out "sufficient information" about how it reached its own estimates for how much its income based repayment programs will cost.
In total, there are over 30 million borrowers now responsible for $900 billion worth of federal student loans. In 2015, there were more than one million loans in default, meaning payments being missed.
The rise in defaults, and the overall rise in student debt, has meant the cost to the government for the income-based repayment plans has increased in recent years, from $3 billion in 2012 to an estimated $14.6 billion in 2017. In some sense, this means that the program has been working — the GAO said in its report that participation in income-based repayment plans was increasing, and that the Education Department is seeking to add another 2 million people to the plans.

In the past three years, the amount of borrowers in income based repayment plans has more than doubled, while the total loan amounts in income based repayment has gone from about 20% of direct loans to 40%.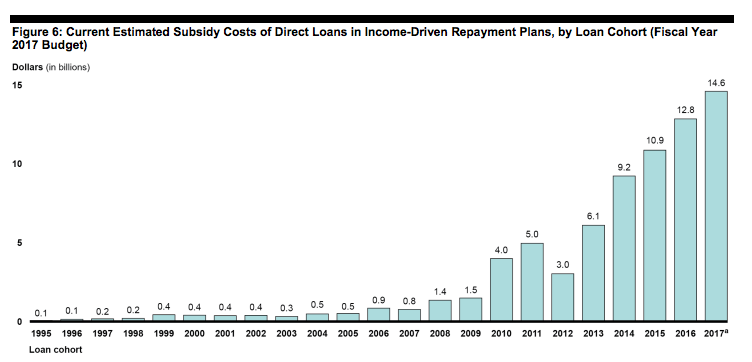 More than half of the estimated cost to the government comes from consolidation loans, which combine multiple federal student loans into one and extends the term to 30 years. Education Department officials told the GAO that some borrowers with consolidation loans "have higher default risks that other borrowers, which leads to higher expected subsidy rates for these loans."