Shareholder Challenge Turns Out Not To Be Much Of One For JP Morgan's Dimon
Jamie Dimon, CEO and chairman of JPMorgan Chase, defeated a shareholder vote to split the roles.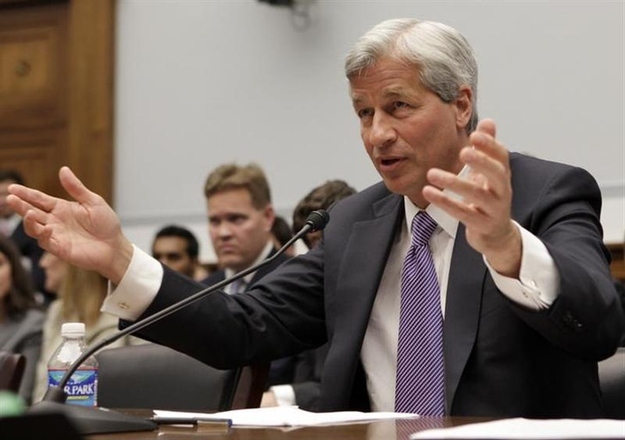 In the end, all the talk about JPMorgan Chase's Jamie Dimon possible being forced by shareholders to split his role as Chairman and CEO at the company's annual meeting today turned out to be just noise.
Indeed, the sharp rebuke Dimon was supposedly set to receive was duller than last year's. Roughly 40 percent of shareholders voted in favor of splitting Dimon's chairman and CEO role last year, while only 32 percent did so this year, according to a preliminary total announced at the end of the meeting.
That's not the outcome one would have expected from the headlines leading up to today. In recent weeks the pressure on Dimon got so intense that he hinted he would leave the firm entirely if forced to give up his chairmanship. The comment seemed to have its intended affect, which was to make clear to shareholders that a JPMorgan with Dimon in a dual role as chairman and CEO was better than one with him in no role at all.
"As a governance matter, an inflexible approach to the question of whether one person can serve as both Chairman and CEO is not the right answer," wrote JPMorgan's board of directors in a letter to shareholders recommending they vote against the proposal.
Public employees union ASFCME led the campaign, with support from two proxy advisor firms, who make recommendations to shareholders for their votes, Glass Lewis and Institutional Shareholders Services. Dimon was arguably more vulnerable to a shareholder challenge this year, following the revelations that derivative traders in the company's Chief Investment Office lost over $6 billion in a trade gone wrong called the "London Whale." When the losses first came to light in April of last year, Dimon described them as a "tempest in a teapot."
In response, the board docked Dimon's annual pay by half – to $11.5 million -- even though the company reported record profits and revenue in 2012. The board also issued an report reprimanding the traders' themselves for not understanding the trade and the Chief Investment Officer's boss, Ina Drew, for failing to properly supervise the traders that worked below her.
One concern among shareholders and analysts had been the apparent lack of succession planning for Dimon's eventual departure from the bank. Many of the senior executives who were with the bank through the financial crisis have departed, leaving no obvious replacement at the top.
On this point, JPMorgan's board conceded that shareholders had a point, though they did make light of the matter.
"We intend to have a competent and capable successor to Jamie," said Lee Raymond, the former CEO of Exxon Mobile who serves as a JPMorgan director. "I have no illusions that we will be able to clone Jamie."
Maybe not, but the bank doesn't have to worry about that — for now it's clear Dimon isn't going anywhere.