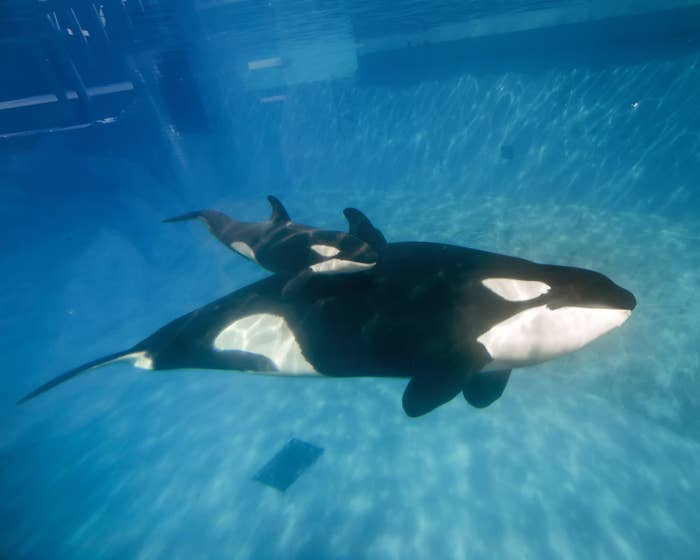 SeaWorld chief executive officer Joel Manby said today on a call with analysts to discuss the company's financial results that it would no longer allow employees to pose as animal rights activists.
"Our board of directors," Manby said, "have directed management to end the practice in which certain employees pose as animal rights activists. This activity was undertaken in connection with efforts to maintain the safety and security of employees, customers, and animals in the face of credible threats." A SeaWorld spokesperson did not comment beyond a statement posted on the company's website.
In July, People for the Ethical Treatment of Animals, or PETA, accused SeaWorld of having an employee named Paul McComb, who worked in human resources for the company in San Diego, pose as "Thomas Jones" and sign up for PETA's Action Team.
PETA said that Jones "repeatedly tried to incite animal advocates to act illegally" and said he encouraged protestors to "get a little aggressive" and "grab your pitch forks [sic] and torches." PETA did not immediately respond to a request for comment.

Manby said that "all personnel matters pertaining to those involved had been handled internally" and that McComb "remains an employee of SeaWorld and has returned to work at SeaWorld in a different department and is no longer on administrative leave."
The announcement came at the end of a call to discuss another disappointing quarter for the company, whose public image took a hit from the CNN documentary Blackfish, which accused the company of mistreating the orcas it keeps in captivity. SeaWorld has phased out orca performances at its California locations and the state has banned the breeding of Orcas in captivity. SeaWorld has challenged the Commission's decision.

The company's chief financial officer Peter Crage said the company had seen reduced attendance in California which "primarily relates to continued SeaWorld brand challenges at this location." Crage also said, however, that earnings and revenues started to turn around in the second half of last year, specifically that the rate of decline had slowed.
For all of 2015, SeaWorld had total attendance of 22.5 million, up slightly from 22.4 million in 2014. Its revenue was roughly flat at $1.4 billion, while its earnings fell slightly. The company recorded a net loss of $11 million in the last three months of the year. The company's total attendance in 2013 was 23.4 million. The company's shares are down almost 12% following the weak earnings report.
Blackfish premiered on CNN in October 2013 to an audience of 21 million, one of the most successful broadcasts in CNN's history. SeaWorld was taken public on the New York Stock Exchange by its private equity owner Blackstone in April 2013, raising over $700 million.
SeaWorld said that its sales and administrative expenses had gone up this year thanks to consulting fees and "an increase in marketing costs associated with the company's reputation campaign and an increase in legal fees when compared to the prior year."