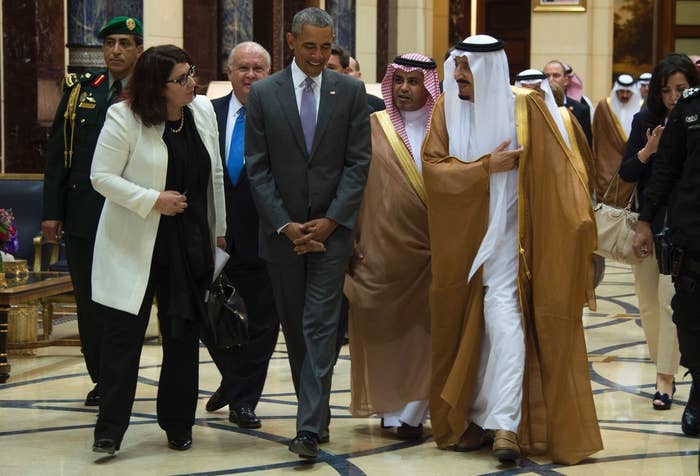 Saudi Arabia owns almost $117 billion of U.S. government debt, according to numbers set to be released by the U.S. Treasury in its first ever public disclosure of the Kingdom's holdings of American treasury bills.
While the Treasury releases regular data on foreign ownership of U.S. government debt, Saudi Arabia's holdings have previously been grouped with other major oil exporters like Kuwait, Nigeria and Venezuela. According to the most recent Treasury report, these exporters collectively owned $281 billion worth of U.S. debt, while the biggest holder, mainland China, owned $1.25 trillion.
The data on Saudi Arabia was released to Bloomberg News in response to a public records request; the numbers will be made public on Monday afternoon as part of the Treasury's regular monthly reports.
"We recently undertook a thorough data and legal analysis to determine if we could report data in a more comprehensive and transparent fashion," a Treasury spokesperson told BuzzFeed News. "We concluded that it was consistent with transparency and the law to disclose the data in a disaggregated fashion"
Because it sells so much oil — and gets paid for it in dollars — Saudi Arabia has always been a major buyer of U.S. government debt, which is considered by financial markets to be the world's safest investment.
But the Saudi government has warned it may sell off up to $750 billion worth of Treasury bills and other U.S. assets in response to a bill going through Congress that would allow the country to be sued in U.S. courts over allegations it is partially responsible for the September 11 attacks.
The Obama administration and the Saudi government both oppose the bill, and the 9/11 Commission has stated that it found "no evidence that the Saudi government as an institution or senior Saudi officials individually funded" the 9/11 attackers.
The $116.8 billion reported by the Treasury would put Saudi Arabia between India and Singapore among the biggest offshore holders of U.S. debt.
Those numbers are unlikely to reflect the full picture, because many countries also purchase U.S. debt through foreign intermediaries. The third largest Treasury bill holders, after China and Japan, are "Caribbean banking centers" like the Bahamas, the British Virgin Islands, and Panama, which in February held $361 billion.
Such countries are not major exporters or large economies, but they do operate as bustling international financial centers prized for their secrecy. Belgium, Ireland, Luxembourg, and Switzerland are also among the top ten holders of U.S Treasuries.
Bloomberg reported that many analysts think that Belgium's substantial Treasury holdings are held on behalf of China. According to a disclaimer in monthly Treasury reports, "U.S. securities held in overseas custody accounts may not be attributed to the actual owners, the data may not provide a precise accounting of individual country ownership of Treasury securities."