New York's Tech Elite And Open Web Advocates Back — and Fund — Tim Wu For Lieutenant Governor
Barry Diller's IAC, Tumblr's David Karp, Netflix's Reed Hastings and other have all donated to Wu's campaign, largely because of the lieutenant governor candidate's opposition to the Comcast/Time Warner merger and support for net neutrality.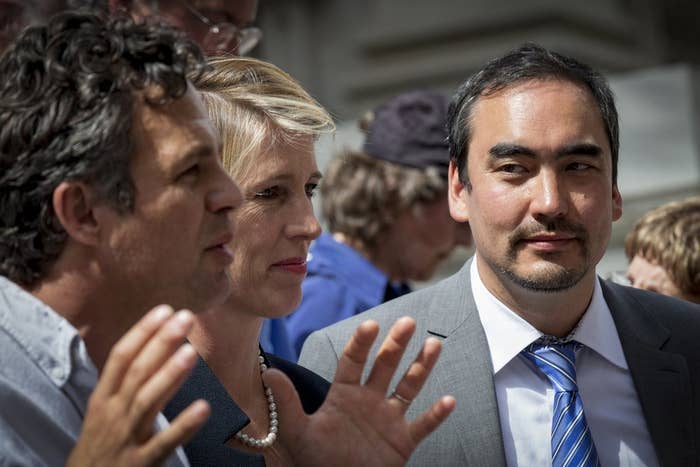 In an essay published in The New Republic in late 2013, a Columbia professor argued that Netflix's push into original programming showed the company "seeks nothing less than to reprogram Americans themselves." Less than a year later, that same Columbia professor, Tim Wu, is running for the Democratic nomination for lieutenant governor of New York. And some of his biggest supporters are tech companies, executives, and a prominent venture capitalist.
Although his bid with Zephyr Teachout for the Democratic nomination is something of a long shot, Wu has become something of a cause celebre for a certain type of liberal technologist. The bid by Wu, who coined the term "net neutrality," has become particularly alluring to that crowd as Comcast attempts to buy Time Warner Cable, which many consider the type of monopolizing that Wu warned against in his book, The Master Switch and has specifically opposed.
"Zephyr and Tim are triggering different, closely related pieces in the New York tech scene's interest in politics," said Micah Sifry, the co-founder of the Personal Democracy Forum and a Teachout-Wu supporter. He noted Teachout's work on Howard Dean's presidential campaign and her role as the first national director of the Sunlight Foundation, a nonprofit focused on governmental transparency.
For Teachout and Wu, that support has been expressed in endorsements (from BoingBoing's Cory Doctorow, for example) — and cash. Tumblr founder David Karp has kicked in $20,000, making him Wu's biggest donor alongside Netflix CEO Reed Hastings. The internet and media holding company IAC, controlled by media mogul Barry Diller, donated $5,000, as have portfolio companies OK Cupid, Mindspark, and Vimeo.
Brad Burnham, a general partner at the New York City-based Union Square Ventures (early investors in Twitter, Tumblr, and Foursquare) donated $5,000 to Wu, as did the head of Netflix's Washington, D.C., office, Christopher Libertell. Of the $86,130 Wu has raised, some $70,000 has come from technology figures, and another $10,000 from Wu himself. Teachout's $559,000 raised comes from a broader range of donors, including Metropolitan star Christopher Eigeman, liberal philanthropist Jennifer Allan Soros, and many small donors.
What all these donors have in common besides liberal leanings (Hastings had donated to Harry Reid and Cory Booker's campaigns; Karp has donated to the Democratic National Committee and appeared at White House technology events) is that they're largely produce content dependent on internet distribution. Companies built around video steaming, which can take up a huge portion of the country's internet traffic, have a particularly large stake in the net neutrality fight and are in nearly constant tension with broadband providers.
"I think the vision that they have at Union Square is that open is going to defeat closed, their investments are in companies that are built on open platforms and empowering users, that's there secret sauce," Sifry said. "There really is a genuine connection between the idea of politics being driven by small donors in open and transparent ways and economics being driven by empowered users."
Netflix has opposed the Comcast-Time Warner Cable merger (which would give Comcast about 60% of all broadband subscribers) and is in a battle of blog posts with the cable giant over net neutrality, the principle that internet infrastructure should treat all data equally. Netflix is the signature corporate supporter of net neutrality.
But that didn't stop Netflix from reaching an agreement with Comcast in February over "peering," where it paid for direct access to Comcast's network. Wu described the deal as a "bad precedent" and said it "will embolden Comcast to extract more tolls from any popular Web company that wants to reach its broadband customers and fears degradation of service." Teachout and Wu have filed comments with the New York state Public Service Commission arguing for blocking the Comcast-Time Warner merger under state law.
Cuomo has also reached out to tech community, with efforts to increase the quality and transparency of New York state data and appointing New York City's Chief Digital Officer Rachel Haot as the state's first deputy secretary for technology. A state agency, the Public Service Commission, is reviewing the Comcast/Time Warner merger and Cuomo has received hundreds of thousands of dollars worth of donations from the two companies.
While Teachout has the far larger warchest, Wu may have a better chance of making it out of Tuesday's primary against Hochul than Teachout does against the formidable Cuomo, although there hasn't been any public polling on the race. The New York Post's Fred Dicker reported earlier this week that the Cuomo campaign was consdiering dumping Hochul, fearing that if Wu were to win the primary, Hochul would stay on the ballot for New York's smaller parties, thus costing Cuomo votes.
While the big donations from senior executives of massive public companies and a billion dollar VC firm may appear contrary to Teachout-Wu's emphasis on "standing up to corporate interests and big money donors," as they put it on their campaign's website, Sifry says getting money from tech magnates is still consistent.
"Let's not be naive about how ideas succeed in America, they involve alliances between people and economics, there are companies that have developed their business model around and on top of the open web, and that's great," he said.
This piece originally misstated the time elapsed between December, 2013 and today.