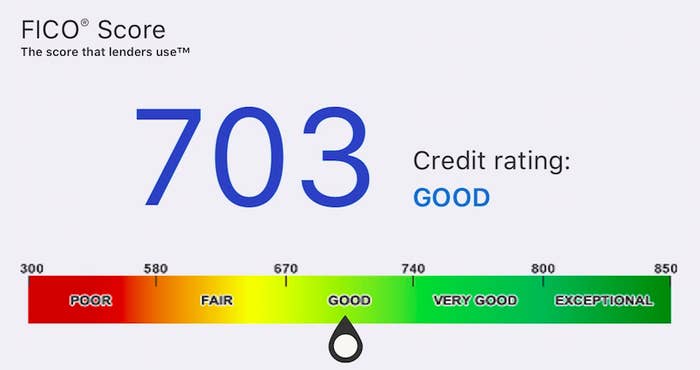 A change in the way credit scores are calculated means almost 12 million people are likely to see their scores rise this year.
Many kinds of long-overdue debts and unpaid taxes will no longer show up as black marks on credit scores, an industry association representing credit bureaus said in a statement on Monday. In the case of unpaid debts that have become subject to a court order, the "vast majority" of such judgments will no longer appear in people's credit histories, it said.
The changes were estimated to have only "modest" impacts on people's credit scores, according to the statement from the Community Data Industry Association. Almost 11 million people will see a score bump of less than 20 points, the Wall Street Journal reported, citing FICO data. About 700,000 borrowers will see a 40 point boost, the Journal said.
Court orders for unpaid debts are rarely obtained by the company that was originally owed the money — or even by the debt collectors they hire to chase down overdue bills. Instead, bad debts are sold further down the food chain as they get older and harder to collect, eventually making their way to buyers who pay pennies on the dollar for the right to try to recover the money.
Those buyers often seek court judgments, which can be easily obtained if borrowers fail to show up in court. In some cases the debt is so old that it can no longer be legally enforced.
These kind of court judgments have faced much scrutiny in recent years, as investigations revealed judgments connecting people to unpaid debts were often incomplete or wrong, due to sloppy record keeping.
Tax liens, obtained by governments seeking overdue taxes, have their own record-keeping problems, Liz Weston, a financial planner and columnist at NerdWallet, told BuzzFeed News.
Credit bureaus TransUnion, Equifax, and Experian are now changing their policies on when these court judgments and tax liens will be counted as black marks on credit scores. Such judgments will need to include at least a name, address, and birthdate or social security number — something the "vast majority" of civil judgements do not contain, the Consumer Data Industry Association said.
About half of tax lien data "may not meet" the new standards, the CDIA said.
The fact that the bureaus are making these changes suggests that such judgments are not useful indicators of someone's creditworthiness, Weston said.
Credit bureaus "don't do things if lenders get pissed off at them," she said. "It's not a consumer-oriented business — they are in business to sell information to lenders and other companies."
The changes will start taking effect in July.