JPMorgan's Profits Decline 8% From Last Year, But Less Than Expected
Despite declines in revenues from mortgages and trading, the largest bank in the country beat out analysts' expectations with $6 billion in profits. In his first public comments since being diagnosed with throat cancer, CEO Jamie Dimon said he was "feeling great."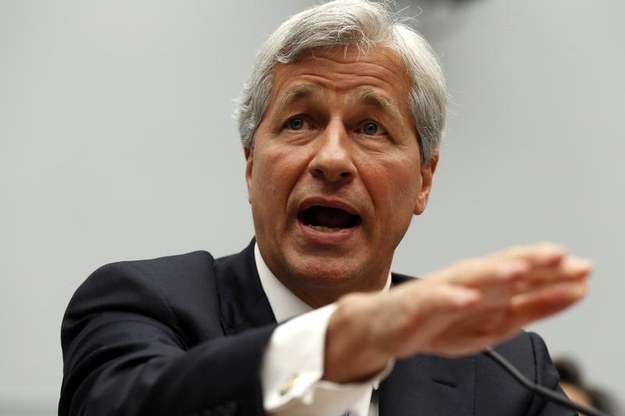 JPMorgan Chase, the country's biggest bank by assets, saw its profits and revenue for the second quarter fall from last year, but still handedly beat analysts' expectations, as the nation's biggest banks continued a trend of slightly less deterioration in their profitability as many anticipated. The bank earned $1.46 a share in profits, more than the $1.31 analysts polled by Bloomberg predicted, but still down from $1.60 a year ago. Revenues were roughly stable over the year, with $24.5 billion, down 3% from $25.2 billion last year.
Those figures were weighed down by another hefty legal expense of 13 cents a share, or $669 million before taxes. JPMorgan paid over $20 billion in 2013 in settlements, fines, and compensation for investors to end investigations and lawsuits related to its banking with Bernie Madoff, sales of mortgage-backed securities before the financial crisis, and the 2012 derivatives loss known as the London Whale.
"Despite continued industry-wide headwinds in Markets and Mortgage, the firm has continued to deliver strong underlying performance," JPMorgan's chairman and CEO Jamie Dimon said in a statement.
The company's stock was up over 3% to 58.24 in early trading Tuesday.
Like two of its biggest competitors in trading and markets, Goldman Sachs and Citigroup, JPMorgan forecasted a disappointing quarter for its fixed income and equities trading business. In a May regulatory filing, the bank said that its revenue from those two segments would be down about 20% from the second quarter of last year, when they brought in $5.4 billion, to about $4.3 billion.
Instead, the bank's falloff in trading revenues was less dire than projected. The bank's fixed-income unit brought in $3.5 billion, while its equities unit brought in $1.2 billion, for a combined revenue of $4.7 billion, a total decrease of 13% from the year before.
The bank attributed the decline in trading revenue to "historically low levels of volatility and lower client activity across products" in fixed income and lower derivatives revenues in equities. JPMorgan's trading results continued a trend started yesterday by Citigroup, one of JPMorgan's rivals among universal banks, which also reported a better trading result than executives had publicly predicted in May, which lifted big bank shares Monday, including JPMorgan.
The bank's chief financial officer, Marianne Lake, said on a call with reporters that client activity had picked up in June, but that momentum had not been carried on into July. Dimon said that the bank was operating on the assumption that the next two quarters would be similar to the first two for its trading businesses, with lower activities and revenue compared with the year before.
The bank's production of new mortgages continued to fall precipitously from elevated levels a year ago, with originations of $16.8 billion, a 66% decline from last year, but only a 1% drop from the first quarter of this year. The bank's revenue from mortgages dropped 37% to $2.3 billion, while its profit fell 38.5% to $709 million.
"Toward the end of the second quarter, we saw encouraging signs across our businesses," Dimon said in a statement, echoing statements Citi executives made Monday, "while it is too early to assume that this momentum will continue, we have confidence in the long-term growth of the economy."
The bank also said its total headcount had fallen over the year by 8,871 to 245,192, a decrease of 8,871, compared with the prior year, a 3.5% drop. The bank is amidst an effort to cut expenses and saw its noninterest expenses drop 3% to $15.4 billion.
The bank's earnings release also included a look back by Dimon on the history of the firm he helped create with the merger of JPMorgan Chase and Bank One in 2004. "This quarter marked the 10-year anniversary of JPMorgan Chase and Bank One coming together — the company overcame significant challenges and achieved extraordinary things during this time," Dimon said.
Dimon, who has led the bank as its chairman and CEO since 2006, was diagnosed with throat cancer earlier this month. In a letter to shareholders and employees, Dimon said his prognosis was "excellent" and that the cancer was "caught quickly, and my condition is curable."
Dimon made his first public comments since he announced his diagnosis on a call Tuesday morning with reporters. Dimon said he was "feeling great" and that there was no "evidence of cancer anywhere else in my body." He said he would continue working, but would "take it easy" and "focus on rest and recuperation." He also said the board had a succession plan in place, but didn't name a successor, saying instead that JPMorgan has "an exceptional group of executives" and that almost any of them can run a major financial company.
He also appeared to reference reports in the Wall Street Journal and New York Times that Mary Erdoes, the head of asset management at the bank, and Gordon Smith, the head of consumer banking at JPMorgan, were two leading succession candidates if Dimon weren't able to continue running the bank.
Dimon told reporters "you guys have the names" when asked about successors and provided a further hint when he said that whoever follows him as CEO does not necessarily have to have trading or investment banking experience. Dimon said such experience was "a good thing, but not a required thing" and that his successor "doesn't have to be an expert in every business." Erdoes started her career at JPMorgan in its private bank, while Smith joined in 2007 as head of JPMorgan's credit cards business after more than 25 years at American Express.
Dimon, despite his diagnosis and treatment, sounded the same as ever as he does on conference calls, enthusiastically parrying with reporters, calling them too pessimistic on the strength of the U.S. economy.
When discussing the trend of corporate "inversions" — transactions where U.S.-based companies merge with one overseas to take advantage of a lower corporate tax rate — Dimon said that corporate tax policy was responsible for "driving companies and taxes overseas" and "the only question is how much damage will be done before we realize that mistake." He defended companies pursuing inversions, saying "economics are economic," but also added, "I love America, I'm more more patriotic than anybody."
When asked what he was thinking when he learned of his diagnosis, Dimon said, "I wanted to get on the path of recovery, the thing you think about most is your family at that time, as much as I love JPMorgan."