If you bought stock in Snapchat's parent company after it began trading last Thursday, your profits just...disappeared.

Shares in Snap Inc. fell by 12% today, closing at $23.77 — below the $24 it first traded at when it debuted on the New York Stock Exchange. Anybody who bought since then is now looking at a loss, although the big institutional investors who were allocated shares by Snap's bankers when they priced the company's initial public offering at $17 a share are still sitting on big profits.
Snap Inc. has received a skeptical welcome from some on Wall Street: Five out of the seven analysts who released recommendations on the stock have advised investors to sell their shares, according to data collected by Bloomberg.
But that ratio will likely change as the big investment banks that underwrote the Snap IPO — including Goldman Sachs, JPMorgan Chase, and Morgan Stanley — begin releasing their own reports on the company. (They're legally barred from doing so until 10 days after the stock goes public.)
Snap Inc.'s disappearing stock price.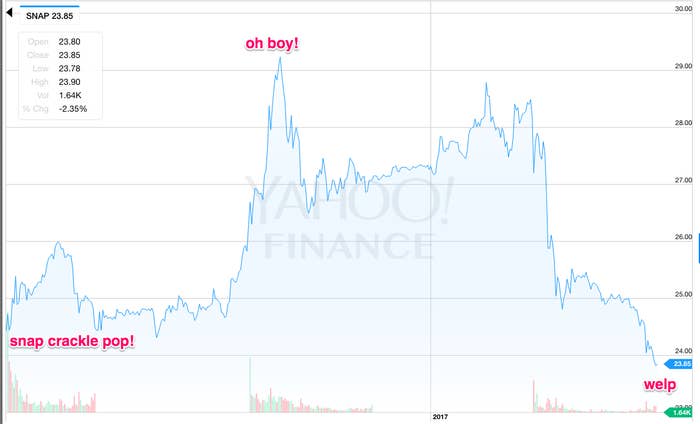 Anthony DiClemente, an analyst at Nomura, explained why he is cautious on the company in a research note last week.
"We believe that upside in shares is limited by 1) already slowing growth in daily active users (DAUs); 2) slowing monetization [average revenue per user] growth; 3) fierce competition from larger rivals such as Facebook, Instagram, and WhatsApp; and 4) rich valuation relative to current and future growth."
DiClemente has set a $16 target price for Snap shares.

But even if the stock falls to below its IPO price, Snap is set up to weather the storm without changing course in its strategy — the shares it sold to the public have no voting rights, meaning no influence over how it is run. Snap's co-founders Evan Spiegel and Bobby Murphy together control nearly all the voting shares in the company.