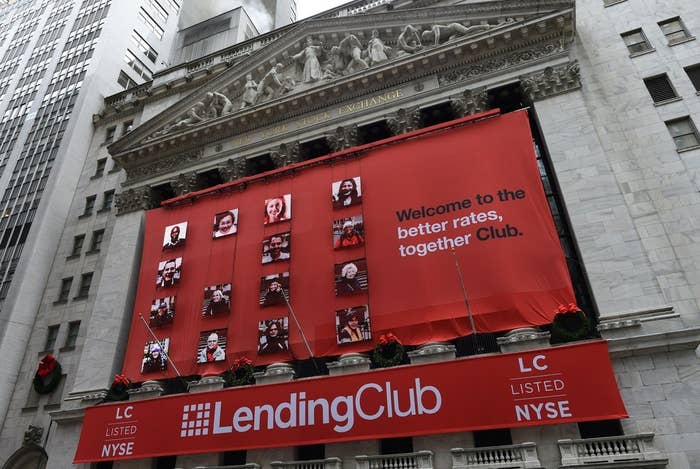 With interest rates at all-time lows and traditional banks laden with new rules following the financial crisis, a new breed of financial institution has emerged: online lending marketplaces that match investors and borrowers, and evaluate borrowers using a wide range of data available online.
One of the largest such companies, Lending Club, raised $780 million in an IPO late last year, while Prosper has raised almost $200 million in venture capital. On these two platforms, loan issuance has grown from $26 million in the last quarter of 2009 to $1.7 billion in the third quarter of last year.
A new Goldman Sachs report on the industry estimates that some $4.6 billion worth of traditional banking industry profits are at risk of being lost to online lenders. Of the $843 billion of consumer loans outstanding, the report says, some $209 billion could move to online lenders and they could eventually capture almost 15% of the market, compared to the 2% they have grabbed so far.
Online personal lending has exploded, and, for Lending Club, it's mostly used to pay off high-interest credit card debt or refinance loans.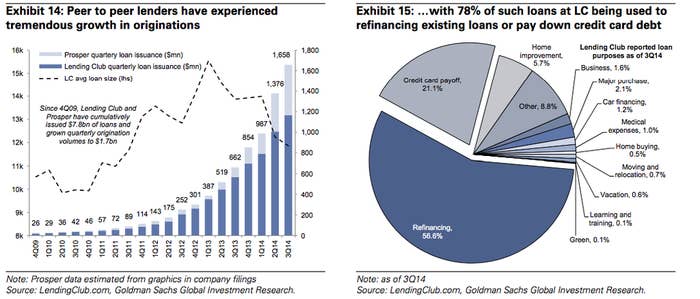 The loans offered by these online lenders tend to be fixed-rate loans, paid off in between three and five years, with rates that start around 5.5%. But instead of being funded by bank deposits, they are funded by investors who snap up the loans after they originate, by a bank in Utah, in the case of Lending Club.
So while traditional banks will end up keeping some loans on their own balance sheet, Lending Club merely stands as a middleman between investors and borrowers. Banks still do some human evaluation of credit risk — traditional underwriting — while the online lenders use a wide array of data beyond traditional credit scores. The new online lenders can also offer loans at very high rates (Lending Club's highest advertised APR is almost 29%).

But the competitive advantage that peer-to-peer lenders advertise doesn't just come from using big data to make underwriting decisions. They also have a significant regulatory advantage, the Goldman Sachs analysts found.
In fact, the analysts say Lending Club has higher per-loan costs than the consumer lending businesses of JPMorgan or Discover (6.9% of receivables versus 4.9% for JPMorgan and 6.3% for Discover). But they face way less in capital requirements.
Discover and Capital One have to maintain capital that's about 15% of their loan receivables, whereas Lending Club only has 1.7% in equity for its loans. "P2P lenders don't retain any residual interest and thus do not assume credit risk," the analysts write. "This means that P2P lenders do not have to hold capital against the loans they originate as such capital is provided by third party investors."
So, while traditional banks and finance companies make money from taking on the risk that their loans won't get paid back (by collecting interest payments), Lending Club instead collects fees for arranging loans.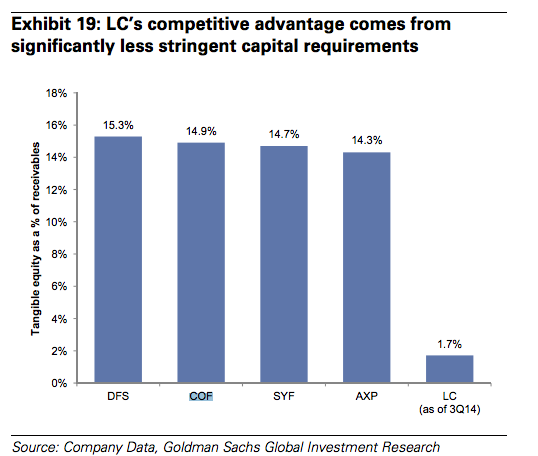 So just how big could the market get for these new lenders? Goldman estimates that there are some $85 billion of personal loan receivables outstanding, and that less than two-thirds are loans to prime borrowers — the people most likely to pay their debts, and who lenders try to target (Lending Club requires that borrowers have a FICO score of 660).
Then there is another $758 billion of personal debt, like credit card loans, about 78% of which is for prime borrowers, about $258 billion of which could be refinanced by one of the new lending marketplace lenders. Goldman estimates that banks earn $4.6 billion from these loans.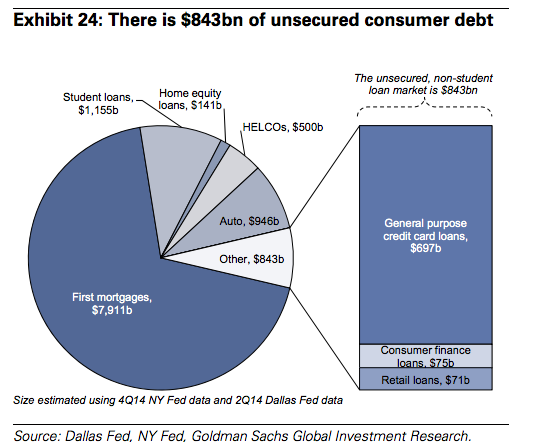 Right now, Goldman says, marketplace lenders are claiming an additional .31% of the market every quarter and have almost 2% of it today. They could end up with 14% of it in 10 years — about $725 million in profits, largely taken from big lenders like American Express, Discover, Capital One, or JPMorgan Chase. But it would still be a small portion of the consumer finance universe — Discover alone had some $2.3 billion in profits last year.