Student Finance Company Higher One Hit With Tens Of Millions In Penalties
Regulators said it omitted important details about its OneAccount student checking account, leading to it improperly collect more than $30 million in fees from students.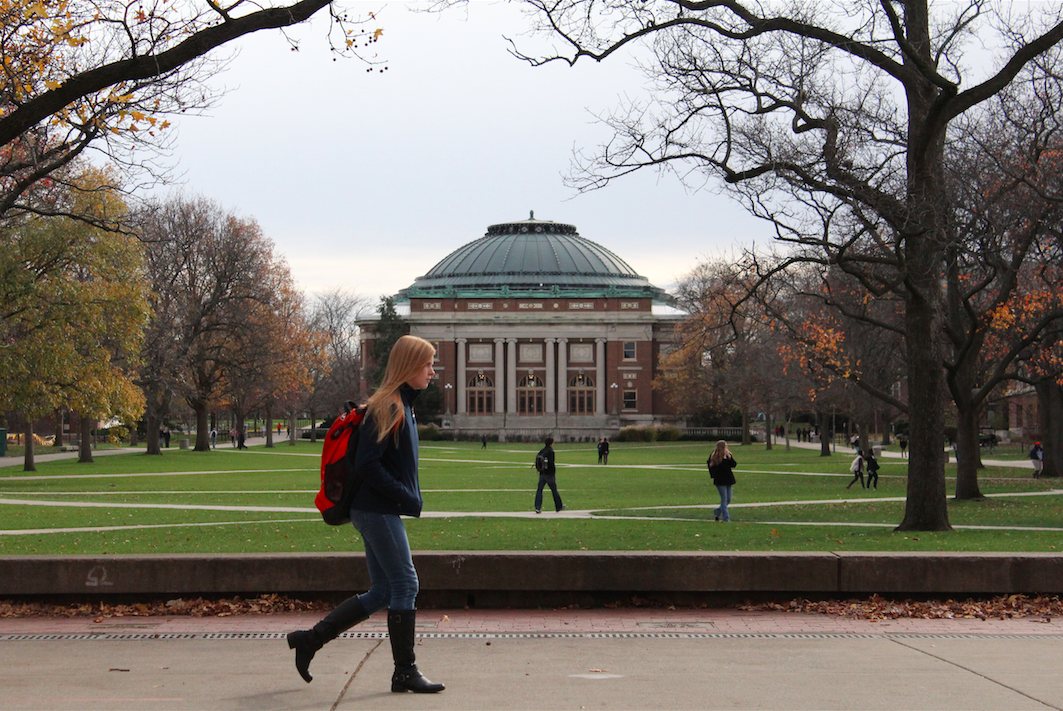 Federal regulators have hammered the once high-flying student financial services company Higher One, saying it had "omitted material facts" from customers regarding the student checking account that was once its core product.

"As a result of these material omissions, Higher One improperly collected $31 million in fees from students" over a two-year period ending in mid-2014, the Federal Deposit Insurance Corporation said today. The Federal Reserve, which also penalized the company, said that Higher One used "deceptive marketing practices."
Higher One partnered with schools to market its checking account to their students, who would sometimes be required to go through a Higher One website, with the school's logo prominently displayed, to access their financial aid dollars. Students could choose to get their money through a Higher One account, a paper check, or direct deposit into another account.
"Higher One benefitted from students directing their financial aid refunds to the OneAccount instead of an alternative bank account or paper check," the FDIC's chairman Martin J. Gruenberg said in a statement.
Once students got a OneAccount, they would be charged fees for basic transactions, like a 50-cent fee for using a PIN to make a debit card purchase, a 3.5% fee for withdrawing money from a bank teller, or high out-of-network ATM fees.
"This is a company that had built a business model on nickel-and-diming away students' financial aid refunds," said Ben Miller, a former Department of Education official who is now a senior director at the Center for American Progress. "That is not a sustainable or legitimate way to get revenue, and the size of this settlement only confirms that."
Higher One has long been a target of student and activist complaints. Critics were particularly irked by its relationship with schools, which entered into partnerships that helped the company make money from students, including many low-income recipients of federal aid programs such as Pell Grants.
"We saw the use of the [school's] logo with the student loan kickback scandal, and with student credit cards, it's deja vu," said former Consumer Financial Protection Bureau student loan ombudsman Rohit Chopra. "Schools with the hope of raising revenue are working with companies that break the law. Many students feel that when their school endorses a financial product, it must have been vetted."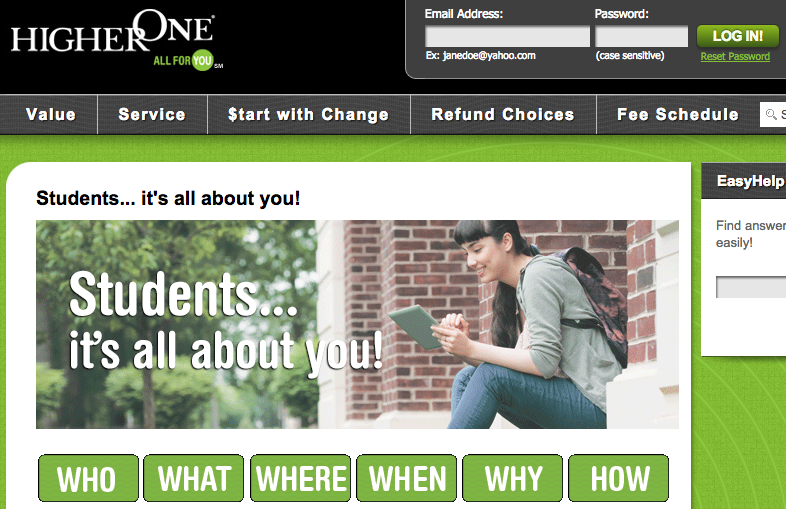 The Federal Reserve ordered that Higher One pay $24 million in restitution and a civil penalty of $2.2 million, while the FDIC imposed a $2.3 million civil penalty and said it had to split $31 million in restitution to about 900,000 customers with its bank partner WEX Bank. The Federal Reserve ordered restitution for 570,000 customers.

Higher One said last week it was expecting to pay "approximately $70 million" to resolve investigations by regulators. It also disclosed that it had received a civil investigative demand from the Massachusetts Office of the Attorney General over debt collection practices. Last year it paid $15 million to settle a class-action lawsuit over the marketing of its checking account product, including disclosure of its fees.
The company also said last week it had hired advisory firm Raymond James "to assist in the evaluation of all strategic options" for its remaining payments business.
The company said in a statement today that the action was referring to old business practices and that it had agreed to sell the disbursement business.
Customers Bank, which has agreed to buy Higher One's disbursements business, said it would combine it with its BankMobile business — a "no-fee digital bank" — and "charge students no or low fees to use the student deposit product."
Higher One stock has tanked this year, down almost 25% to $3.22. The New Haven, Connecticut company went public in 2010 at $12 a share. As of Tuesday's closing price, the company was valued at about $156 million.
Its stock dropped as investors prepared for new Department of Education rules that will require colleges to provide a variety of options for students receiving their financial aid money, including restrictions on fees.

Its investors were also well aware of the heat the company was attracting from authorities. The regulatory actions today, which also cover a bank partner of Higher One, are not the first for the company — in 2012 the FDIC ordered it and a different bank partner to pay $11 million in restitution for violating consumer protection rules.
The FDIC's consent order said that for more than a year, "information about certain fees, features, and limitations of the OneAccount was omitted entirely or was not clear and conspicuous." On the first page of the promotional materials given to students explaining how they would receive financial aid money faster through a Higher One account, "there was no information about the fees, features, and limitations of the OneAccount," the regulator said.
Higher One CEO Marc Sheinbaum said he has "set new standards for transparency and compliance" since joining the company in 2014.
"Today, the account experience is significantly changed and an even better student experience will be unveiled in 2016," he said in a statement. "With the announcement of the sale of Higher One's Disbursements and OneAccount businesses to Customers Bank, we're bringing this longstanding matter to a close and look to begin a new chapter for Higher One."
Chopra, the former student finance regulator, said the action today is a reminder for students that they are under no obligation to choose a financial product endorsed by their school.
"They should get their own bank account that they shop for and should sign up for direct deposit whenever they can," Chopra told BuzzFeed News. "No student should blindly trust the bank partner of their school."