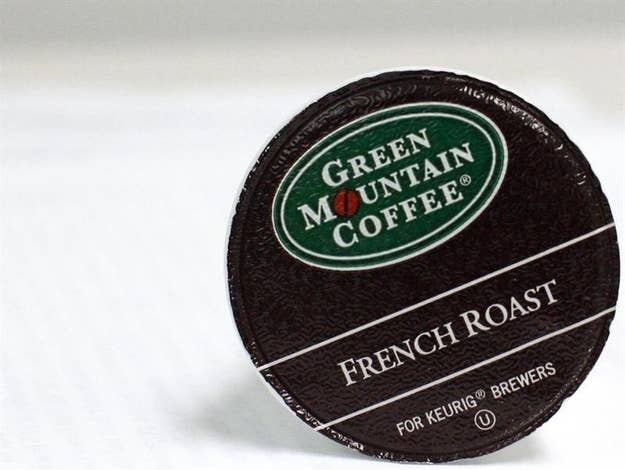 Green Mountain Coffee Roasters, whose "K-Cups" have become virtually synonymous with single serving coffee, is going cold. The company announced today that Coca-Cola would be taking a ten percent stake in it and would jointly develop and promote a "Keurig Cold at-home beverage system." Coke will put about $1.25 billion into the beverage company and "will cooperate to bring the Keurig Cold beverage system to consumers around the world," according to a Green Mountain statement.
The company said that the Keurig Cold will use pods to make "cold beverages including carbonated drinks, enhanced waters, juice drinks, sports drinks and teas in consumers' homes." Green Mountain CEO Brian Kelley said on a conference call with analysts that Green Mountain will have access to Coca-Cola's brands but "will have multiple brands and multiple partners in our cold system over time."
"By pairing The Coca-Cola Company's brand leadership and global footprint with GMCR's innovative technology, together we will be able to capitalize on the many exciting growth opportunities in the single-serve, pod-based segment of the cold beverage industry," Coca Cola CEO and chairman Muhtar Kent said in a statement, "Importantly, this partnership provides our consumers with a convenient way to enjoy the brands they love through in-home preparation."
Green Mountain also reported $1.4 billion worth of sales in the first quarter of this year, a 4% increase from a year ago. The company also reported $227 million in profit, a 26% jump over the year. Coke's investment and the company's new product line come as it appears that sales of brewers, as opposed to the cups that fill them, might be stalling out. The company reported an 8% increase in revenue from beverage packs sold this quarter, with $931 million, but near flat growth in revenue from brewers, which fell around 1% to $375 million. Keurig sold 5.1 million brewers this quarter.
The company said the investment will close in March of this year and the Keurig Cold is "currently under development" would be available in the 2015 fiscal year. The company's stock closed at just over $80 a share and is up more than 34% in aftermarket trading. SodaStream, the Israeli company whose "SodaStream Jet" allows people to carbonate water and make soda at home is down more than 8% in aftermarket trading.
The big jump in Green Mountain's stock is likely to further hurt hedge funds who short the stock because of what they say are questionable accounting practices. The company's stock dipped down below $20 in 2012, but is up more than 70% over the last year. Hedge funds own 6.6% of the company's outstanding stock and 31.3% of the stock is held by short sellers betting the stock will go down, according to data compiled by Bloomberg.