Goldman Sachs Beats Expectations, But Suffers From Wall Street Revenue Malaise
Despite the best investment banking quarter since 2007, Goldman's revenue and profits for the first quarter of this year fell 8% from a year ago.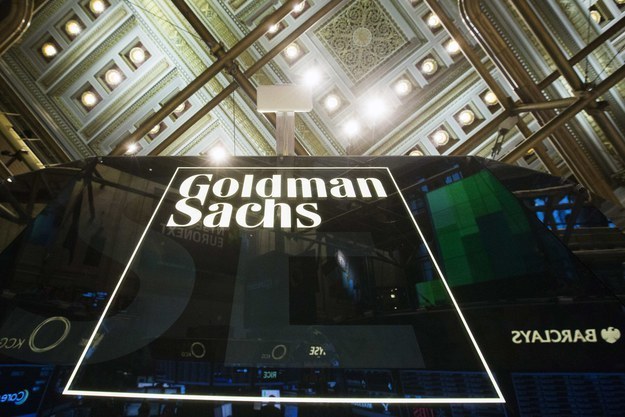 Goldman Sachs blew analysts' expectations for its earnings out of the water, with earnings per share of $4.02, while analysts polled by Bloomberg expected $3.49 a share. It similarly outperformed on revenues and profits, with $9.33 billion in revenue and $2.03 billion in profits, compared to expected revenues of $8.66 billion, with $1.722 billion in profits.
But like its rival JPMorgan, the investment bank's results fell off from a year ago. Its revenue was down 8%, while profits decreased 10%.
Its sales trading in fixed income, currencies, and commodities, long the strongest cash generator in the firm, brought in revenues of $2.85 billion, an 11% decline from a year ago but outperforming analysts' projections of $2.63 billion in revenue, an 18% decline from last year. The bank attributed the fall to "significantly lower net revenues in interest rate products, currencies and mortgages, as well as lower net revenues in credit products," but noted that poor performance in fixed income was offset by "significantly higher net revenues in commodities." Goldman also said that the FICC business operates in a "challenging environment and levels of activity generally remained low."
The trading slump has been felt across Wall Street, with JPMorgan, Bank of America, and Citigroup all reporting FICC revenue declines. Morgan Stanley, Goldman's sole full-service, independent investment banking rival, actually saw a sizable increase in its FICC trading revenue.
"We are generally pleased with our performance for the quarter given the operating environment," said Goldman CEO Lloyd C. Blankfein in a statement. "Investment Banking and Investment Management generated solid results, while market sentiment shifted throughout the quarter, constraining client activity in various parts of our franchise."
Despite more or less flat revenue from 2012 to 2013, Goldman has continued to eke out profits thanks to near-unprecedented cost discipline. That continued this quarter. Compensation expenses of $4 billion decreased 8% from $4.3 billion in the first quarter of last year, and stayed consistent at 43% of total revenue. The bank's headcount also decreased 1% from the end of 2013.
Goldman's investment banking business had revenues of $1.78 billion, a 13% jump from a year ago and its best quarter since 2007. Goldman rode a wave of dealmaking in the first quarter, reporting advisory revenues of $682 million, a 41% increase from a year ago.
Revenue from trading equities for clients came in at $1.6 billion, a 17% percent decrease from last year's $1.9 billion. The bank's stock-trading franchise has been flagging recently, with market share falling from 2013 to 2012. Trading in its "dark pool" — a private stock trading venue where buyers and sellers don't have to post orders to the public — has fallen 40% in the last year, while rival banks dark pools have seen trading activity grew, according to the Tabb Group. Goldman said it "experienced challenging market-making conditions, particularly in Japan and certain emerging markets as equity prices declined."
The Wall Street Journal reported yesterday that the bank was rethinking its equity trading business and was even considering closing down Sigma X, its dark pool. Goldman said in a memo distributed to its staff that markets would improve if IEX, a 6-month-old trading venue designed to combat high-speed traders and more opaque dark pools, gained "critical mass" even at the expense of Sigma X.
On a conference call with analysts, Goldman Sachs chief financial officer Harvey Schwartz said "We have no significant plans for Sigma X at this stage." But he also said that "the market evolution of speed of execution has just gotten ahead of the market infrastructure on the market plumbing And so we're very focused on working with all market participants and regulators to ensure that the market structure catches up with the speed."
Update: This piece has been updated with comments by Harvey Schwartz from the bank's earnings conference call.