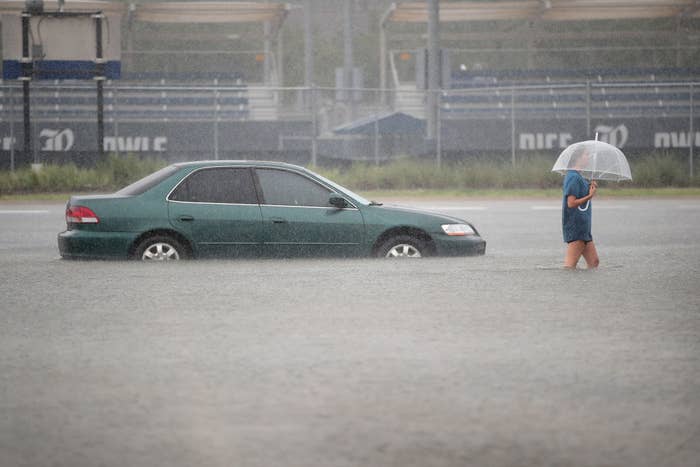 Gas prices are expected to spike across the country, especially in the Gulf region, as Tropical Storm Harvey shuts down oil refineries, offshore oil drilling sites, and pipelines used to transport fuel nationwide.

The biggest impact will be in the Gulf region, where prices are expected to go up 20 cents to 35 cents per gallon, or more than 10%, according to Patrick DeHaan, an analyst at GasBuddy, a site that tracks gas prices. Gas prices could spike 25 cents in the Midwest, and 15 cents in the rest of the country, DeHaan said in an interview with BuzzFeed News — although he called that a conservative estimate.
"There is more of a risk that the range will drift higher as we get new information from more shutdowns," DeHaan said. Prices could up go by 5 to 10 cents from his current forecast.
As gas prices rise, shares of some companies that operate refineries — Valero, Phillips 66, CVR Energy, Marathon Petroleum, and Andeavor — were up on Monday.
Phillips 66 said in a post on Sunday: "Phillips 66 does not determine the price charged at the pump. We are asking the owners of Phillips 66- and Conoco-branded gas stations to exercise good judgement in pricing gasoline and diesel and we have reminded them about laws that prohibit price gouging."

Over 16% of the country's daily gasoline refining capacity was offline as of Sunday, according to Goldman Sachs research. The outages could increase as the storm continues to move around Houston.

Several refineries around Corpus Christi, Texas, shut down before the storm made landfall. On Sunday, Exxon Mobil shuttered its Baytown facility, which is a large oil refinery and petrochemical plant. The refinery processes 560,000 barrels of oil a day, making it the country's second largest.
All told, over 2 million barrels a day of refining capacity was down or in the process of shutting down, according to Platts, which tracks commodities and energy markets. The Texas Gulf Coast can refine up to 5 million barrels a day, which according to Energy Information Administration is about one-third of the country's total refining capacity.
The Department of Energy reported on Sunday that 105 offshore oil drilling platforms and five offshore rigs had been evacuated in the Gulf of Mexico. About one-fifth of all crude oil production in the US happens in the Gulf of Mexico, according to EIA data.
In the weeks following Hurricane Katrina in 2005, retail gas prices nationally spiked 46 cents as a significant share of the refining and offshore drilling capacity of the US was in the path of the storm.

Futures prices for gasoline shot up 80 cents in the days immediately after Katrina made landfall in New Orleans. "Hurricane Katrina was a larger storm that caused an astronomical amount of damage," DeHaan said. "There's been a lot of lessons learned since about how to deal with a larger storm."

While the effects on individuals and the region can be devastating, even the largest natural disasters tend to have modest effects on the national economy.
"The impact on the U.S. economy will likely be both small and mixed as the early disruption to production and potential spikes in gas prices fade and are replaced by the positive impact of repair and reconstruction efforts," David Kelly, the chief global strategist for JPMorgan Funds said in a note Monday. "However, none of this diminishes the misery suffered by the people who are being directly impacted."