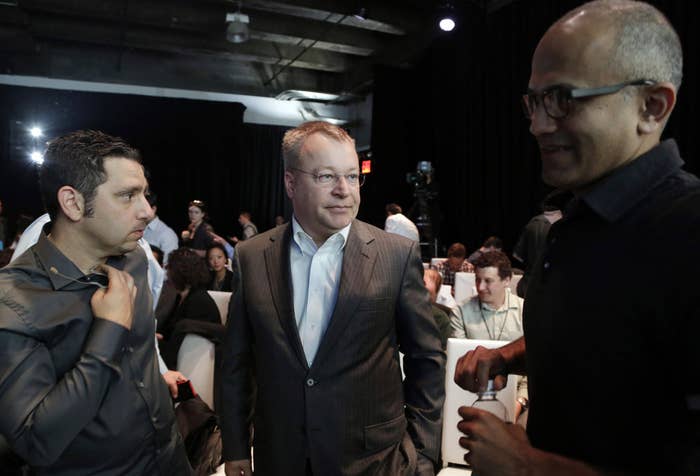 When Microsoft announced it was acquiring Nokia's handset business for over $7 billion in late 2013, many speculated that Nokia's then-chief, Stephen Elop — a Microsoft alumnus — could one day succeed CEO Steve Ballmer.
Satya Nadella got the top job instead, and Elop still ended up running Microsoft's device group, overseeing the company's smartphone, tablet, and Xbox gaming console businesses. But his time at the company is coming to an end: Microsoft announced today that Elop would leave the company as part of an executive reshuffle.
Elop's role will be taken over by Terry Myerson, current head of the company's Windows division, who will now lead a new combined Windows and Devices group.
"Stephen and I have agreed that now is the right time for him to retire from Microsoft," Nadella said in an email to employees. "I regret the loss of leadership that this represents, and look forward to seeing where his next destination will be."
Since the Nokia acquisition, Microsoft's cell phone business and adoption of its Windows phone operating system has continued to lag Apple and Google, posing a major threat to the company's position in an increasingly mobile-driven tech landscape.
"This new team brings together all the engineering capability required to drive breakthrough innovations that will propel the Windows ecosystem forward," Nadella said. The unit will include Windows as well as Microsoft devices including the Surface tablet, Lumia smartphones, Xbox consoles, and new experiments like the Hololens augmented reality headset and Band fitness tracker.
The absorption of Microsoft's device business into its operating systems group follows the announcement last year that the software giant would lay off 18,000 employees, mainly from the former Nokia business, including over 1,000 layoffs in Nokia's native Finland.
Another high-profile executive leaving Microsoft is Mark Penn, the former adviser to Bill and Hillary Clinton who helped run Microsoft's communications and public relations team. Penn's time at the company included its infamous "Scroogled" TV campaign that accused Google, in the style of political campaign ads, of violating its users' privacy.
Nadella said in the email that Penn had told him "a number of months ago" about his plan to leave Microsoft. "Mark has helped me set the company on a new course. I'm thankful for the wise strategic counsel Mark has provided, and I look forward to seeing what he does next," Nadella said in the email.
Two other executives, Kiril Tatarinov and Eric Rudder, will also leave the company.