Forbes Sells Majority Stake To Hong Kong And Singapore Investors
The company founded in 1917 by BC Forbes will no longer be majority controlled by the Forbes family.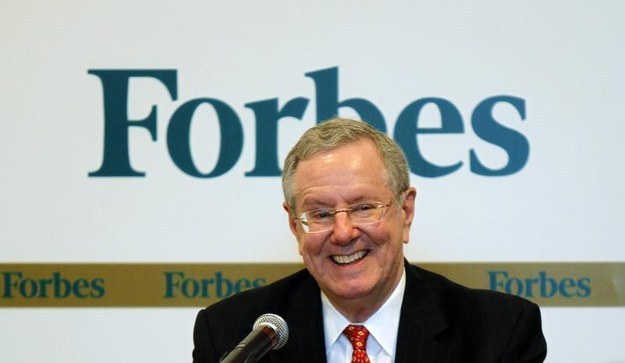 One of the oldest and most established brands in U.S. publishing will be majority owned by investors based in Hong Kong and Singapore. Forbes Media announced Friday that it would sell a majority stake of the company to an ownership group that includes Hong Kong investment company Integrated Asset Management. The ownership group, Integrated Whale Media Investments, also includes an investment from Wayne Hsieh, the founder of the Singaporean computer company ASUSTeK Computer.
For the first time since 1917, the Forbes family, now led by Steve Forbes, the grandson of Forbes magazine founder Bertie Charles Forbes, will not be majority owners of the company.
Forbes will keep his role of chairman of the company and editor-in-chief and Mike Perlis will stay on as president and CEO. The private equity firm Elevation Partners, which purchased a 45% stake in Forbes in 2006, will gives up its Forbes stake as part of the deal. Terms of the deal were not disclosed, but Bloomberg and the New York Times reported that the deal valued Forbes Media at $475 million.
Forbes has been looking for a buyer or large investor since 2013, with Elevation looking to get out of its minority stake.
"This is a major milestone for the company and our family, and we're pleased to partner with a forward-looking investor group to further drive the evolution and growth of this exceptional company," Steve Forbes said in a statement.
The company said that it was profitable and had its best performance "in the last six years" in 2013.
Forbes has been diversifying its business away from just the flagship U.S. magazine into conferences, contributor-written content on its website, and international editions of the publication. The company also has ambitions to expand its brand into not just conferences and newsletters, but also into clothing in Asia.
"We had the opportunity to do young men's shoes and business suits in China with a Forbes logo," Perlis said in a interview last year. "In Asia, for a young man entering the business world, there is nothing like Brooks Brothers or Marks and Spencer. A Forbes garment would indicate success and upward mobility."
"We are investing in the Forbes brand, history, family involvement, and a management team that is successfully transforming the company," said IAM founder Tak Cheung Yam in a statement. "As more market-based economies emerge globally, interest in the information that Forbes provides and the message it delivers resonates with a growing audience."
"Our new partners respect the Forbes mission and our deep belief in entrepreneurial capitalism and free markets. They are entrepreneurs themselves," Steve Forbes said in a post on Forbes.com.