Citi Surprises On Earnings, Reports Slight Profit Jump
While revenue dropped from a year, the bank's stock jumped this morning.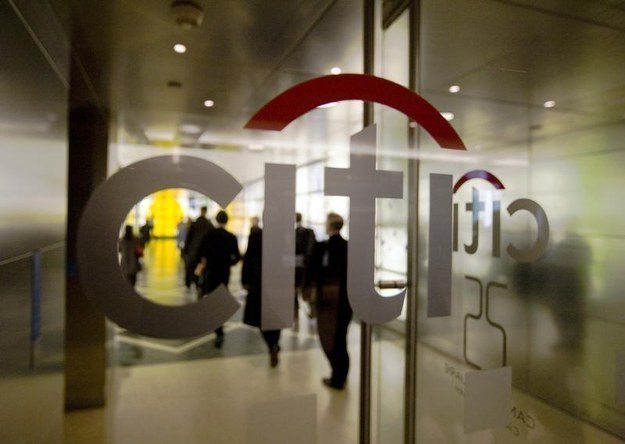 Amid investigations into massive fraud at its Mexican unit, Citi managed to report a modest rise in profits, beating analysts' expectations. The bank had profits of $3.9 billion or $1.23 per share with $20.1 billion in revenue.
That's a slight drop from the $20.2 billion in revenue reported this quarter last year, even with last year's $1.23 per share. With some accounting adjustments for the value of Citi's own debt and one-time tax charges, Citi earned $1.30 per share compared to $1.29 in the first quarter of last year. Analysts polled by Bloomberg expected profits of $1.13 a share.
The positive number does not mean that Citi has escaped the large drop in trading profits that is expected to affect all of its competitors. Citi's fixed income trading revenue dropped 18% from last year to $3.85 billion, roughly in line with the company's guidance, but not as steep as the drop reported by JPMorgan on Friday.
John Gerspach, the bank's chief financial officer, said on the bank's conference call, "If you just look at the last couple of years, with FICC it certainly appears to be a shrinking pie." FICC, or fixed income, currencies, and commodities, was the lifeblood of Wall Street's outsize profits before the financial crisis.
If the downturn in FICC revenue, which has been seen across the entire industry, is truly driven by the overall market shrinking, then there may be no chance for Wall Street to return to its highflying ways.
"Despite a quarter that was difficult for our company, we delivered strong results," CEO Michael Corbat said in statement.
Investors liked the news and in early trading the bank's stock is up 4% to $47.51.
While revenue dropped slightly, Citi was able to release some of its sizable reserves for soured loans, thus increasing profits. Its loan-loss reserves dropped from $23.7 billion to $18.9 billion from the fourth quarter of last year, and had a release from its reserve of $673 million.
Citi had a slight decrease in expenses, about 1% to $12.1 billion from a year before, despite a sizable increase in its legal and regulatory costs.
Today's unexpectedly positive results still won't change the fact that Citi is unlikely to meet one of its profitability targets. According to the Wall Street Journal, Citi has been telling some shareholders that it expects to miss one of its profitability targets, a return on tangible common equity of 10%.
"This delay in increasing our capital return means it's hard to see a scenario where we'll be able to meet our immediate target of a 10% return on tangible common equity in 2015," Corbat said in a conference call with analysts this morning.
The profitability figure would have gained a boost had the Federal Reserve allowed the bank to up its buyback and dividend. Instead, in late February, the Fed rejected Citi's request to buyback $6.4 billion in stock and pay out a 5-cents-per-quarter divided, Citi said it would continue its $1.2 billion buyback and 1-cent-a-share dividend for this year.
"We are engaged with the Fed to better understand their expectations regarding the CCAR [dividend and buyback] process. We are committed to bringing our capital planning process to the highest possible standards, befitting an institution of our global reach," Corbat said, "I will dedicate whatever resources and make whatever changes necessary to achieve this critical goal."
The rejection, Citi's second in three years, called into question the leadership of its CEO Michael Corbat, who replaced Vikram Pandit in October 2012. Pandit failed to win Federal Reserve approval for an increased buyback and dividend earlier that year.
"I assure you, we're addressing this issue with absolute urgency," Corbat said on the earnings call.
The bank has also been dealing with the fallout from fraud uncovered in its Mexican unit, Banamex. Citi said in February Banamex was defrauded out of $400 million by Oceanografía, a Mexican oil services company that was borrowing money from Citi in advance of collecting payments for work done for Pemex, the Mexican state oil company.
Corbat said that one Citi employee "who we believe was criminally involved in the fraud" had been fired. "We expect to take action against others whose negligence or lack of compliance with our code of conduct allowed this fraud to be committed. Those responsible will be held accountable for their actions and inactions," Corbat said.
Citi's Chief Financial Officer John Gerspach said on the conference call that Citi had reviewed similar financing programs and uncovered another case where a supplier to the Mexican oil company Pemex "was found to have similar issues" as Oceanografía but that Citi would not have to adjust its earnings because the loss was relatively small and the bank expects to get the money back.
Revenue fell across Citi's international operations, including a 4.7% drop in Latin America.
Michael Corbat described the fraud in a memo as a "despicable crime." Some analysts think that the Fed's rejection of Citi's capital return plan was linked to the Oceanografía scandal. In any case, the bank's troubles in Mexico show the difficulty of maintaining effective controls in a truly global consumer and corporate banking business like Citi's.
Update: This piece has been updated with Corbat and Gerspach's comments from Citi's conference call.