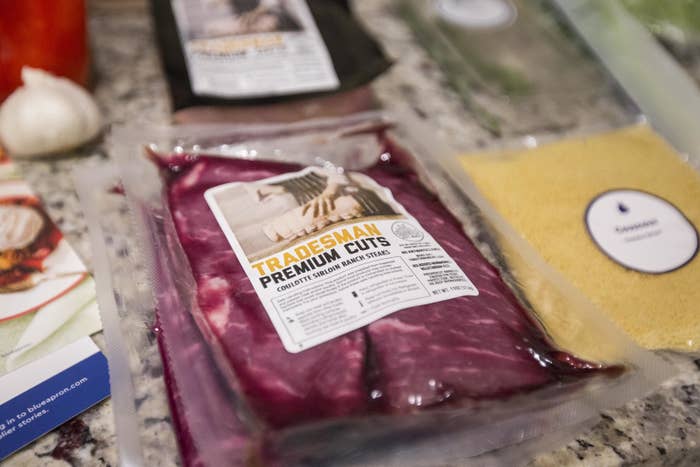 Blue Apron ended its first day of trading on Thursday exactly where it began: at $10 per share, the same price paid by institutional investors when the company dished out its stock on Wednesday.
The meal-kit delivery company had a brief 10% jump after trading began on the New York Stock Exchange, but it didn't last long. The lack of a first-day share price increase capped off an underwhelming initial public offering for the company, which is now valued at just under $2 billion — less than its valuation in a 2015 funding round, and far below the almost $3 billion valuation the company proposed after announcing its plan to go public.
"The lowered Blue Apron IPO pricing is unique in this broader market context as less than 10% of tech IPOs price lower than it's initial pricing range," said Eric Kim, a managing partner at Goodwater Capital, in an email. "That may have to do more with the specifics around Blue Apron than the market itself."
Less than two weeks ago, Blue Apron indicated that it would be able to sell its shares at between $15 and $17, before bringing its pricing down to $10. The range of expected prices for new stocks typically rises throughout the IPO process, as the company's executives and their bankers meet with prospective investors and pitch their prospects as a publicly traded company.
Bankers typically set the price of a company's shares so that there's a small "pop" on the first day, locking in some gains for early investors. But a strong first day is by no means a guarantee of continued strength in the stock market. On Twitter's first day of trading, its shares rose some 73%. They're now about 30% below their opening price that day.
Blue Apron has to spend enormous amounts of money on attracting new customers — in the first three months of this year, the company had total revenues of $245 million and had spent $61 million on marketing. The company lost $52 million.