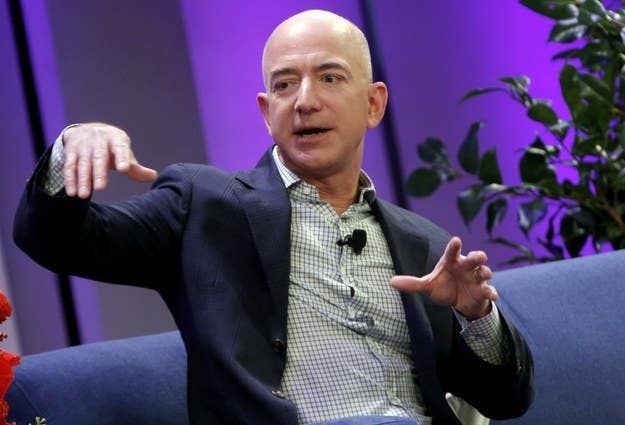 Jeff Bezos, the CEO of the massive retailer Amazon and owner of the Washington Post, now finds himself on both sides of a delicate media equation: As publisher, he has promised independence to his top editors; as a subject and advertiser, his staff has reportedly been trying to compromise the independence of another publication.
The New Yorker reported Friday that Amazon pulled advertisements for its original program Alpha House from The New Republic after the magazine ran a highly touted cover story titled "Amazon Must Be Stopped" by its then-editor Frank Foer describing Amazon as a monopoly and calling for its breakup. An Amazon ad agency, The New Yorker's Ryan Lizza reported, wrote TNR an email saying, "In light of the cover article about Amazon, Amazon has decided to terminate the Alpha House campaign currently running on The New Republic." The email was reportedly signed, "Team Amazon." Foer, Lizza wrote, wanted to make the issue public, but TNR's owner Chris Hughes decided against it.
The editors of the Post and Business Insider, when asked about the incident Saturday, said they had seen no signs of meddling with their own publications.
Marty Baron, the editor-in-chief of the Washington Post, told BuzzFeed News in an email, "Jeff Bezos told us from Day One that we should cover him and Amazon like anyone else, and we have. That's our policy. He has not been involved in any decisions involving our coverage, and I have no concerns at all that he will be."
Bezos personally purchased the Post last year for $250 million. The Post was criticized in May for not covering the dispute over e-book pricing between Amazon and Hachette, but since then wrote several stories about the conflict and a critical story about the proliferation of "wildly misleading self-published books about Ebola by random people without medical degrees" in Amazon's Kindle e-book store.
Bezos is also one of several investors in the business and tech site Business Insider. In April of last year, Bezos led a $5 million investment round in the site through his personal investment arm Bezos Expeditions.
"Our investors have no involvement in editorial. Including Jeff. I actually don't think I've ever even discussed anything we've written with him. And we write about Amazon constantly, good and bad," Henry Blodget, the editor-in-chief of Business Insider, said in an email to BuzzFeed News. "I've never heard of Amazon pulling ads over a story, but if they have, they certainly wouldn't be the first. Any publisher worth its salt occasionally gets tossed in the penalty box."
Bezos did not respond to a request for comment.