Behind The Plan To Make A Major U.S.-Regulated Bitcoin Exchange
Second Market CEO and Bitcoin investor Barry Silbert is working on rolling out a regulated, US-based exchange following the Mt. Gox disaster. "This is the fun stuff."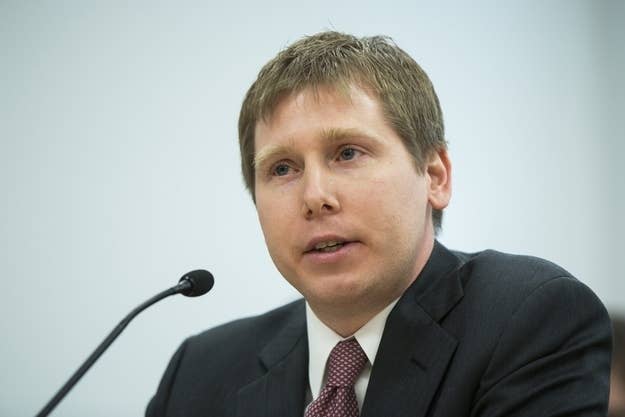 On perhaps the darkest day for Bitcoin since its mainstream emergence, Barry Silbert is feeling as good as ever about the future of Bitcoin. "This is the fun stuff," he told BuzzFeed, describing his plans to spin off the Bitcoin businesses in his company SecondMarket — which became famous as a marketplace for private Facebook stock before its IPO — into a new company that will serve as a regulated, U.S.-based Bitcoin exchange.
Bitcoin has been in jeopardy since Mt. Gox, the largest and most prominent Bitcoin exchange, shut down operations Monday after reports it lost hundreds of millions of dollars worth of Bitcoins following attacks from hackers.
A document purportedly from Mt. Gox said that the company has lost 744,408 bitcoins, or about $350 million. One Mt. Gox user reported having $285,000 stuck with Mt. Gox, and the price of Bitcoin has slumped to $512, down 7.5% in a day and less than half its early December peak of $1,155.
SecondMarket, Silbert said, will place its Bitcoin Investment Trust, a Bitcoin investment vehicle with $47 million worth of assets, and its Bitcoin trading desk into a new company, along with $20 million worth of cash and Bitcoin assets.
While there will be a board meeting later this week to sign off on the split, Silbert, who will serve as CEO of both companies, said that SecondMarket was functionally split already.
The biggest project for the new company would be the Bitcoin exchange.
"The exchange model we're looking at is less similar to what exists now and more similar to the New York Stock Exchange where you have a group of regulated member firms," Silbert said. "They are the only ones who can access the exchange."
The exchange, according to Silbert, would have Bitcoin companies and banks trade Bitcoin and dollars with one another and be able to set a spot price for Bitcoin. The exchange would also settle transactions between member firms every day.
Silbert said he was working in "close collaboration" with other companies, financial institutions, and regulators to get the exchange started, though he declined to cite any of them by name. He did hint, however, that member firms could be companies like Coinbase, which operates Bitcoin wallets for individuals and helps buy and sell Bitcoin, or Circle, which provides payment services for digital currencies. Silbert said that he was aiming to have a "group of founding members in March" that would include a global financial institution.
"One of the key elements to this exchange is the inclusion of a few global banks," he said. "The banks have come to the conclusion that Bitcoin isn't going away. There's an interest to trade Bitcoin to cash and vice versa, that's a service [banks will] provide."
The banking industry has begun to show at least some interest in Bitcoin, with both Bank of America and JPMorgan publishing research on the digital currency.
Any new, U.S.-based Bitcoin exchange would need the approval of regulators in addition to the participation of financial institutions. The two main Bitcoin exchanges aside from the crisis-ridden Mt. Gox — Bitstamp and BTC-e — are based in Slovenia and Bulgaria respectively.
Silbert wouldn't say which regulators he has talked with, but he did note that SecondMarket is a registered broker dealer, and that he considered the regulatory environment for Bitcoin favorable.
"Regulators, in a productive way, have come out in promoting the idea of regulation. They've all said Bitocin isn't a bad thing," Silbert said.
One of those encouraging regulators is Ben Lawsky, the head of the New York State Department of Financial Services, who regulates New York banks, insurance companies, and other financial companies. "The long-term strength of the virtual currency industry will require robust safety and soundness requirements — so customers have faith that their money won't get caught in a virtual black hole," Lawsky said in a statement Tuesday. "And if we get those rules right, perhaps we can make New York and the United States a magnet for legitimate, well-regarded exchanges and other virtual currency firms."
Silbert isn't the only Bitcoin backer unfazed, at least publicly, by Mt. Gox's demise. Fred Wilson, whose Union Square Ventures has invested in Coinbase, wrote today on his blog that, "I bought a little Bitcoin today. Not much. But I always feel good buying when there is blood in the streets in any market. It is my favorite time to buy."