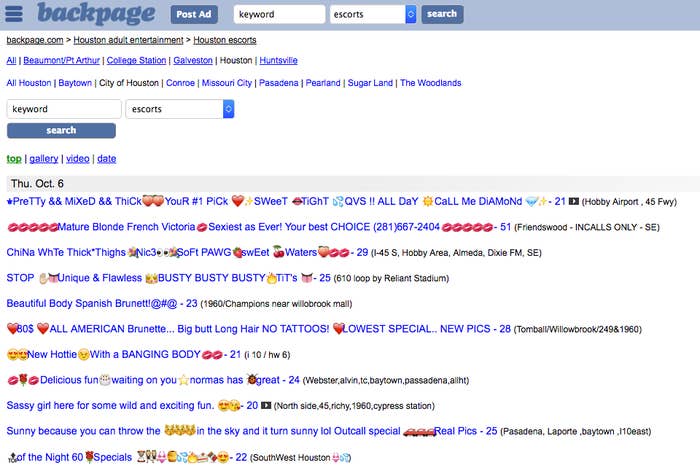 The CEO of online classifieds site Backpage.com has been arrested in Texas and charged with crimes including pimping a child, the Texas attorney general's office said Thursday.
Backpage.com, which is widely used by escorts and other sex workers, has long been accused by authorities of not doing enough to crack down on child prostitution and sex trafficking being facilitated through the site. The company was effectively cut off from the credit card payment system last year, after the Cook County sheriff in Illinois warned credit card companies that Backpage was profiting from and turning a blind eye to child prostitution.
Backpage CEO Carl Ferrer has been charged with pimping a minor, pimping, and conspiracy to commit pimping, the California attorney general's office said. Two shareholders of Backpage, Michael Lacey and James Larkin, have also been charged with conspiracy to commit pimping. "Lacey and Larkin are not yet in custody but warrants are out for their arrest," a spokesperson for the attorney general's office said.
Backpage was founded over a decade ago, and became the predominant destination for escort ads in 2012 after Craiglist banned them under pressure from politicians and law enforcement officials.

"Backpage's escort services section essentially operates as an online brothel," said a California arrest warrant for the Backpage officials. "The ads unequivocally sell sexual services, featuring extremely provocative pictures and lightly veiled or coded sexual terminology."
Although Backpage boasts some content moderation of explicit prostitution ads, the warrant says that an agent who used the words "cum" and "quickie" had their ad submission deleted, but when they used "come" and "quick session," the ad was able to go through.
The arrest warrant says the National Center for Missing and Exploited Children reported 2,900 cases of child sex trafficking in California alone since 2012. The California criminal investigation began in 2013.

The warrant also claims what many already knew or assumed to be true: Backpage may offer plenty of normal classified advertising services, but the real money and activity comes from escort ads.
"Backpage's internal revenue reports show that from January 2013 to March 2015, 99% of Backpage's worldwide income was directly attributable to the 'adult' section," and that the company had $2.5 million in monthly revenue from California alone, according to the attorney general's office.
This proportion of money that came from adult ads only dropped substantially, the arrest warrant claims, when the credit card networks cut off Backpage last spring.
More seriously, the investigation "found that many of the ads for prostitution services involved victims of sex trafficking, including children under the age of 18" and the warrant cites several examples of underage sex workers using the site for advertising to potential clients.
The California arrest warrant says that Backpage's parent company went beyond merely hosting ads, and used Backpage's content on other sites that individuals could not submit their advertisements to. In the past, the company has successfully defended itself by asserting it is merely a platform and cannot be held responsible for ads that others post on its site.
"Raking in millions of dollars from the trafficking and exploitation of vulnerable victims is outrageous, despicable and illegal," California Attorney General Kamala Harris said in a statement.
"Backpage and its executives purposefully and unlawfully designed Backpage to be the world's top online brothel," Harris said. The years-long investigation was assisted by the Department of Homeland Security and the Department of Justice, along with several local law enforcement agencies.