Attorney General Signals Criminal Prosecutions Against Large Banks
"A company's size will never be a shield for prosecution or penalty," said Attorney General Eric Holder.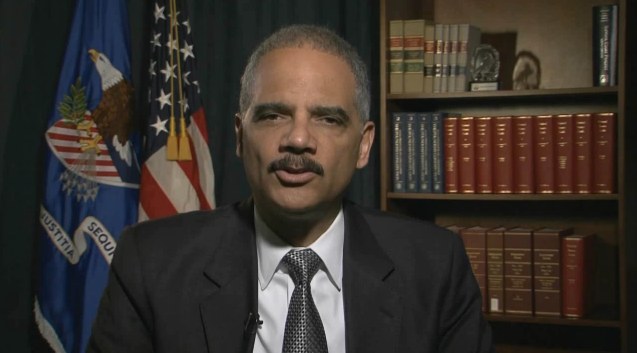 Attorney General Eric Holder said in a video released by the Justice Department this morning that "no individual or company, no matter how large or how profitable, is above the law."
The attorney general's comments follow news last week that the Justice Department and Preet Bharara, the U.S. attorney in Manhattan, were coordinating with regulators to win guilty pleas from two banks, Credit Suisse and BNP Paribas, without triggering regulatory action that would shut down their operations in the United States.
Holder said that if prosecutors can coordinate with regulators, "it is fully possible to criminally sanction companies that have broken the law, no matter the size." While Holder did not reference the investigations of Credit Suisse or BNP specifically (or Bank of America, which is also reportedly negotiating a massive settlement over its sale of mortgage-backed securities before the financial crisis), Holder has been fighting against the perception that the Justice Department has avoided criminal cases against large banks because of fear of collateral economic consequences. On Sunday, the New York Times Magazine published a long story examining why the Justice Department had won only a single criminal conviction against a banking executive for activity during the financial crisis.
In a Frontline documentary released early last year, the then-head of the Justice Department's criminal division, Lanny Breuer, said that prosecutors should "speak to regulators, should speak to experts" to see if a criminal case against a financial institution "creates a ripple effect so that suddenly counterparties and other financial institutions or other companies that had nothing to do with this are affected badly." The remarks were widely interpreted as a justification for the lack of criminal cases against large banks, and a month later Breuer announced he was leaving the Justice Department.
Three months later, Holder told Congress, "Banks are not too big to jail. If we find a bank or a financial institution that has done something wrong, if we can prove it beyond a reasonable doubt, those cases will be brought."
Since then, however, the Justice Department reached a deferred prosecution agreement with JPMorgan over its long relationship with Bernie Madoff and failure to report its own internal suspicions about his investments that were revealed to be a Ponzi scheme. Instead of criminally charging the bank, prosecutors agreed to withhold criminal charges in exchange for compensating victims of Madoff's scheme and improving its own compliance with anti-money-laundering rules.
While prosecutors sought a guilty plea, the New York Times reported that JPMorgan's primary national bank regulator, the Comptroller of the Currency Thomas Curry, warned prosecutors "that federal law might require him to reconsider JPMorgan's charter if the bank was convicted of a crime."
Holder said today that cooperation with regulators "will prove key in the coming weeks and months as the Justice Department continues to pursue several important investigations."