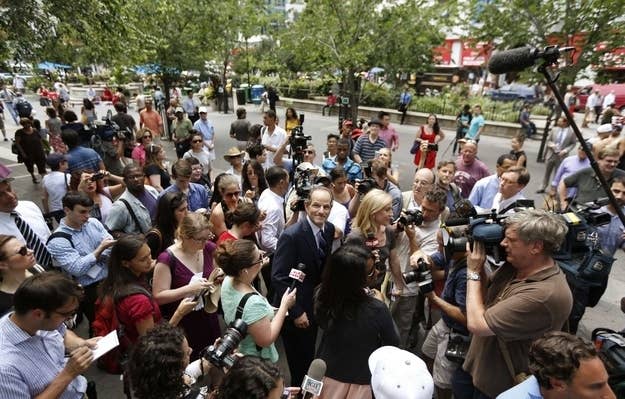 In announcing his run for New York City comptroller, former New York Governor and Attorney General Eliot Spitzer said that the position "is ripe for greater and more exciting use of the office's jurisdiction." And while he hasn't gotten very specific on what that means exactly — his campaign is less than a day old — he would once again be entangled with the very institutions he made his career tangling with: banks.
Two of the comptroller's main functions are managing the city's $140 billion worth of pension assets from five different pension funds and financing the city's operations through selling bonds. The current comptroller, John Liu, has used the city's assets to quietly become an activist investor. Liu was one of the main forces behind the shareholder push to separate the roles of JPMorgan Chase chairman and CEO Jamie Dimon.
Spitzer will likely use the role in the same way, just more loudly. Of Dimon, for instance, Spitzer told Bloomberg Businessweek that, "Even if the leader is spectacular, we want checks on power." In an interview with WNYC this morning, Spitzer said that he would go after Dimon's combined role.
But here's the catch: Spitzer can't be overly antagonistic toward Wall Street because, in the comptroller's role as pension fund overseer and city financier, he would also be a major client and investor with big banks, hedge funds, and private equity firms. The comptroller, along with the mayor, is in charge of determining the size and structure and the city's debt. According to announcements by the comptroller's office, from June of last year the city has either sold or refinanced $12.7 billion worth of bonds.
The city contracts with banks to actually sell the bonds to investors and has spread the business from the Financial District to Midtown and everywhere in between. In 17 bond sales or refinancings since the beginning of June 2012, 15 banks have worked as senior or co-senior managers. These include banking heavyweights like Citi, Goldman Sachs, JPMorgan, Bank of America, and Morgan Stanley, along with smaller outfits like MR Beal and Ramirez & Co. Citi and Barclays are tied for the lead, with 10 deals as senior or co-senior book runner each. Bank of America, JPMorgan, and Morgan Stanley all rank second, with nine deals each.
The city is also a major customer of interest-rate swaps from the same investment banks. These financial products are designed to limit the city's exposure to fluctuating interest rates. By far the city's largest counterparty is JPMorgan Chase, with swaps on $788 million worth of debt; second is Wells Fargo, with swaps on $350 million; and third is Goldman Sachs, with swaps on $321 million. The largest single swap is with JPMorgan Chase on $200 billion of debt that runs from 2002 when the contract was entered into through 2020. In total, New York City has over $41 billion worth of outstanding general obligation debt.
Interest-rate swaps sold to municipalities have come under increased scrutiny after Jefferson County, Ala., was forced into bankruptcy following a disastrous debt-swap deal tied to sewer construction sold by JPMorgan. JPMorgan ended up losing $1.6 billion in settlements and losses on the debt.
Spitzer will also have to keep a close watch on the pension fund's managers, who are solely responsible for all $140 billion in assets, as the fund is the only one of 11 top pension funds in the country that does not manage its assets internally. Spitzer would not be making investment decisions himself, the city contracts its management of these assets to outside investment management firms. According to Bloomberg News, the city pays these outside managers $360 million a year to oversee the funds. This practice has been criticized by the city's chief investment officer, Larry Schloss. When Liu announced that Schloss would be joining the comptroller's office, he said in a release that "the organization of [pension fund assets] has been characterized as a 'cluster$&*$'."
What's more, Spitzer will have to pay particular attention to the private equity firms managing money for the Common Retirement Fund, as the pension counts 6.3% of its assets as managed by the private equity sector. This makes private equity its third largest equity investment and fourth largest overall investment, according to 2012 data.
Some of the biggest private equity names on the pension's manager roster that Spitzer would have to watch over include Apollo, Blackstone, Carlyle, Warburg Pincus, Cerberus, GS Capital Partners, and Oaktree — or, put another way, some of the same firms that he went after as AG.
Correction: An earlier version of this story misstated the percentage of the city's pension plan that is invested in private equity. It is 6.3 percent. The earlier version also listed three private equity firms that manage money for the state, not the city's fund. (7/8/13).