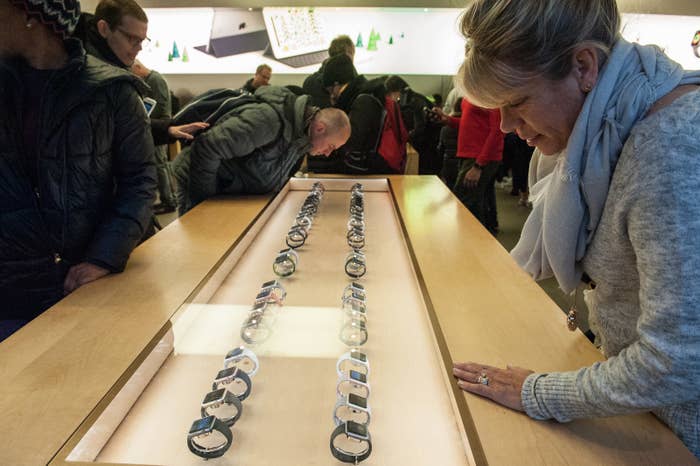 Apple's sales reached an all-time high in the final three months of 2016, with the company reporting record sales of its iPhones, Mac computers and Apple watches.
Revenue hit $78.4 billion for the quarter, slightly up from the $76 billion the company made in the same period of 2016. The quarter was a crucial test for Apple, whose sales typically peak during the holiday season, and whenever it rolls out a brand new phone. The new iPhone 7 was released just a few days before the start of the quarter.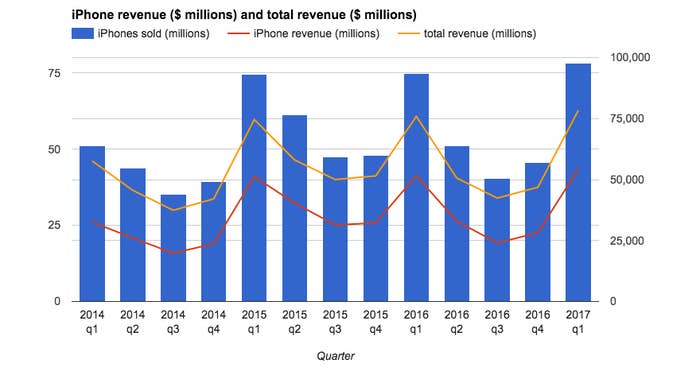 iPhone sales rose by 5% over the year prior, but overall profit dropped by 2.6% to $17.9 billion. Apple shares are up 25% in the last year, but its stock is still trading below the all-time high it reached in 2015. In after-market trading on Tuesday, the company's shares were up almost 3%.
Beyond the iPhone, Apple's software services business continues to boom — it generated over $7 billion in revenue in the three-month period, up 18%. Some $3 billion of that came in December alone, Apple chief executive Tim Cook said on a call with analysts to discuss the quarter's results. The services business includes iTunes purchases and Music subscriptions, AppleCare, and Apple Pay.
The services business also includes over 115 million users who have paid subscriptions either to Apple products or to services they buy through the App Store. Monthly subscription revenue is a more steady — and thus more valuable — stream of revenue to the company.
The company's "other products," segment, which includes the Apple Watch, saw a 8% decline in revenue, while the iPad had a 22% drop. Cook said, however, that it was "the best quarter ever" in both units sold and revenue for the watch.
One year ago, powered by the release of the iPhone 6s and 6s Plus, Apple reported the most profitable quarter in corporate history, earning $18.4 billion in profits on $76 billion of revenue.
Since then, the company reported its first annual decline in sales since 2001, raising questions among observers if Apple, despite continued sky-high profits that would be the envy of any other company, could still provide the massive growth it had experienced since the dawn of the iPod.
While the growth figures reported today were positive, it's not the type of strong sales growth that's typically been associated with brand new iPhone releases.
Apple ended the quarter with a hoard of cash and securities worth $246 billion, by far the largest in the corporate world.
"I'm very happy to share with you the outstanding results of Apple's December quarter. We generated the highest quarterly revenue in Apple history," Apple chief Cook told analysts.