Appeals Court Throws Out Two Insider Trading Convictions
Todd Newman and Anthony Chiasson, both part of a ring of traders that included SAC Capital employees, saw their convictions overturned by an appeals panel.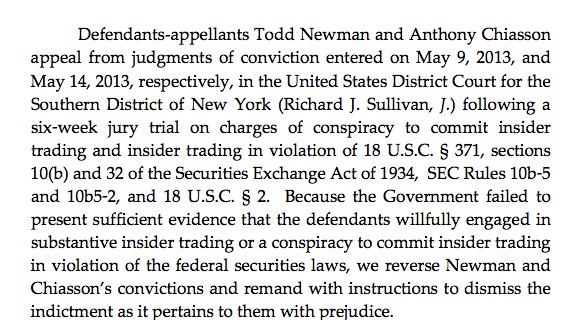 The Second Circuit Court of Appeals today ruled that federal prosecutors "failed to present sufficient evidence" that two hedge fund traders, Todd Newman and Anthony Chiasson, "willfully engaged in substantive insider trading or a conspiracy to commit insider trading in violation of the federal securities laws." The two were part of a ring that included traders at SAC Capital — the hedge fund founded by billionaire Steve Cohen — that prosecutors said traded tips and advance information about technology companies.
Chiasson, a former SAC Capital who founded a new fund, Level Global Investors, was convicted of insider trading in December, 2012 and sentenced to six and a half years in prison. At his sentencing, judge Richard Sullivan noted his above-$10 million annual income and said "It's hard to imagine why someone would risk all that to engage in a crime like this." Newman worked at Diamondback Capital Management and was sentenced to four years in prison.
The panel of judges for the Second Circuit found that the jury was wrongly instructed in deciding the case, and that the government failed to prove must "that the tippee knew that an insider disclosed confidential information and that he did so in exchange for a personal benefit."
The judges also found that the government couldn't show "that Newman and Chiasson knew that they were trading on information obtained from insiders in violation of those insiders' fiduciary duties." To win an insider trading conviction, courts in the past have ruled, prosecutors must show that someone used nonpublic information that helped determine a company's stock price and that the information was obtained in exchange for a "personal benefit" for the person giving away the information.
Newman and Chiasson, prosecutors argued, had gotten early information on earnings announcements from Dell and NVIDIA in 2008 and then traded on that information to earn $4 million and $68 million for their funds.
But, the appeals court said, "Newman and Chiasson were several steps removed from the corporate insiders and there was no evidence that either was aware of the source of the inside information."
The judges described the prosecutors' case and other insider trading cases as depending on "doctrinal novelty" and said they were "increasingly targeted at remote tippees many levels removed from corporate insiders."
The information Newman and Chiasson relied on, in one case, had come from an investor relations employee at Dell, Rob Ray, who then passed it to an analyst at asset management firm Neuberger Berman, who gave it to an analyst at Diamondback, who then passed it to Newman, who passed it to an analyst at Level Global, who passed it to Chiasson.
"Newman and Chiasson were several steps removed from the corporate insiders and there was no evidence that either was aware of the source of the inside information," the court panel said.
At the time of their convictions, U.S. Attorney Preet Bharara, who has only lost one insider trading case and won convictions in 80, said "With today's guilty verdicts, Todd Newman and Anthony Chiasson join the ranks of high-level investment fund managers who are being made to answer for their extraordinarily bad risk-reward analysis about what is right and what is wrong." A spokesperson for the Manhattan U.S. Attorney's office did not respond to a request for comment.
The panel's ruling could offer hope to Michael Steinberg, who was convicted of insider trading late last year and sentenced to three years in prison. One of Steinberg's analysts, Jon Horvath, testified at trial that Steinberg had asked him to get "edgy" and "proprietary" information about stocks, which included Dell and NVIDIA. Steinberg himself was the end of a long chain of information on nonpublic information. Steinberg fainted in the courtroom when he heard his sentence. His conviction was one of the government's signature victories in its years-long investigation of SAC Capital.
SAC itself pleaded guilty to insider trading in last year and paid a $1.2 billion fine and Bharara described the firm as a "magnet for market cheaters." SAC changed its name to Point72 Asset Management and now only invests Cohen's personal wealth. Cohen has not been charged with or convicted of insider trading.