Another Aged Billionaire Joins Twitter
Carl Icahn, the 77-year-old billionaire activist investor, just joined Twitter. Will he tweet more than Warren Buffett?
This morning, Carl Icahn, who is embroiled in a fight with Dell founder and CEO Michael Dell over the computer company's future, joined Twitter. This isn't Icahn's first social media move: He started a blog called "The Icahn Report" in June 2008 and updated it through April 2009. Icahn joins his fellow aged-billionaire investors Warren Buffett and T. Boone Pickens on Twitter. Buffett started his Twitter account in May and has only tweeted three times. Pickens, on the other hand, has tweeted over 1,500 times and is responsible for perhaps the greatest billionaire tweet in history.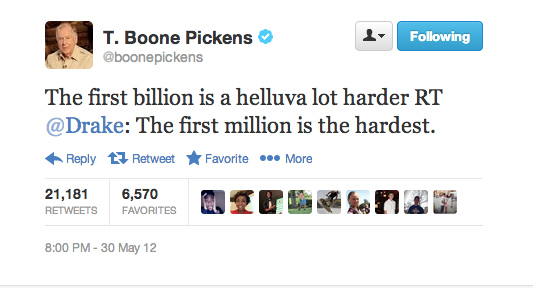 Icahn is famous for his willingness to get into highly public spats with company executives and rival investors, like Bill Ackman, who Icahn loudly yelled at on CNBC for almost half an hour over their respective investments in the nutritional supplement company Herbalife. Ackman shorted the company in December, alleging it was a pyramid scheme, and Icahn took a sizable long position in the company in February.