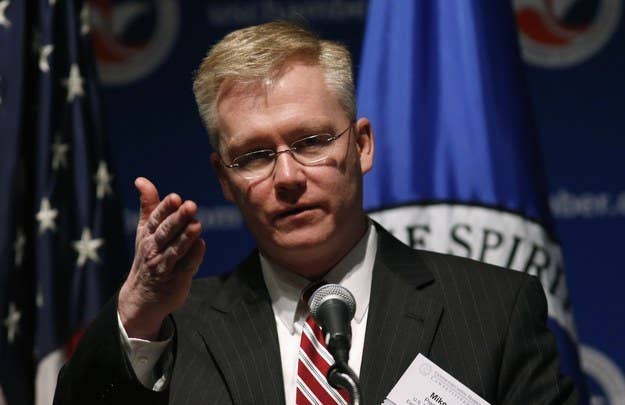 Which regulators should be responsible for dealing with threats to the overall financial system? How should companies that aren't banks and investment vehicles that look like bank accounts be overseen?
These are questions scholars, regulators, and industry officials have been debating since the financial crisis. The creation of the Dodd-Frank financial reform bill both gave the Federal Reserve new powers to oversee a wider swath of the financial system and created the Financial Stability Oversight Council, or FSOC, chaired by the Treasury Secretary, that could designate non-bank firms for increased oversight and recommend that regulators address certain issues. Mary Jo White, commissioner of the U.S. Securities and Exchange, also serves on the FSOC.
But one of White's SEC colleagues, Republican Michael Piwowar, is chafing at what he views as other regulatory bodies invading the SEC's turf. Piwowar thinks the SEC should do more, and the Federal Reserve and the FSOC should do less.
In a scathing speech delivered Tuesday at the conservative American Enterprise Institute, Piwowar said the FSOC releasing its own recommendations on money market funds — including instituting capital requirements similar to what banks face in order to prevent investor panics similar to bank runs — was "the most obvious example of the Council's much-discussed hubris." He also said his complaints about the FSOC made "the Colonists' 27 grievances against King George III and Martin Luther's 95 Theses protesting clerical abuses seem remarkably terse."
Piwowar had especially harsh words for the Federal Reserve, which he sees as "ignoring the talent and skills of the hundreds of subject matter experts in each of the SEC's rule-making divisions" in its efforts to patrol risk and instability across the financial system.
"I am resolved to defend our jurisdiction from the prudential regulators' Council-enabled turf war," Piwowar said, "but the prudential regulators are mounting a coordinated behind-closed-doors assault that is currently six times the size of our defensive team."
And those were some of Piwowar's kinder remarks. Below are six much harsher ways he described the FSOC in today's speech.
Michael Piwowar's Six Ways To Describe The FSOC
1.
"The Firing Squad On Capitalism"
2.
"The Vast Left Wing Conspiracy to Hinder Capital Formation"
3.
"The Bully Pulpit of Failed Prudential Regulators"
4.
"The Dodd-Frank Politburo"
5.
"The Modern-Day Star Chamber"
6.
"Unaccountable Capital Markets Death Panel."
For good measure, Piwowar added that "there are countless terms I could use that are appropriately pejorative and at the same time entirely accurate."