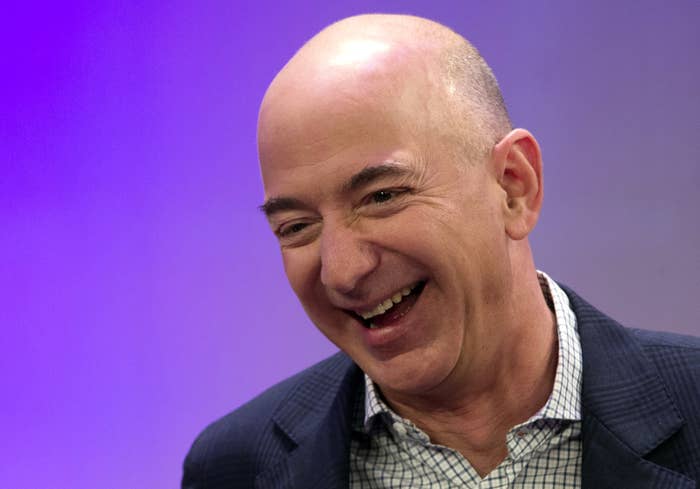 Amazon shares crossed the $1,000 mark in trading on Tuesday morning, valuing the company at $480 billion. Amazon founder Jeff Bezos is now worth $85 billion, according to Bloomberg data.

Hitting $1,000 per share is a milestone for Amazon, but it's not the first tech company to get there. The online travel booking site Priceline is currently worth $1,850 per share, although its overall valuation of $91 billion is far below Amazon's. Beyond tech, shares in Warren Buffett's investment conglomerate Berkshire Hathaway are priced at a comical $247,000 each.
Amazon's surging stock price comes as a handful of tech giants race to become the first trillion-dollar company. Apple's current market value is $800 billion, and at least one analyst thinks it could be worth over $1 trillion. Google's parent company, Alphabet, is valued at $681 billion, and analysts recently estimated its self-driving car unit, Waymo, could be worth $70 billion on its own. In 2015, a team of analysts at Barclays said that Amazon would eventually be worth over $1 trillion.
Amazon stock has risen more than 400% in the last five years, and the company's revenue grew from $48 billion in the 2011 fiscal year to $136 billion in 2016. Alongside its massive online shopping business, the company's cloud computing unit, Amazon Web Services, has become a beast in its own right, and brought in $12 billion in revenue and $3 billion in operating profit in the last year.
Over the last decade, the company has dumped its profits back into growing its business, rolling out distribution centers across the country and slashing prices. It reported annual losses in 2012 and 2014, and a $2.4 billion profit in 2016.
By comparison, Microsoft has reported at least $12 billion in profits every year for the last 12 years.
Apple, which has become one of the most profitable companies in history since the iPhone boom, probably would have beat Amazon to the $1,000 mark, if not for a stock split the company did in 2014. Every Apple share was divided into seven new shares, slashing its share price from $645.57 to $92.70 overnight. Based on its old share count, Apple would be trading at about $1,070 per share today.
Amazon split its shares three times between June 1998 and September 1999, back when every investor on the planet was desperate to be able to buy into the dotcom bubble. When the bubble burst, Amazon came close to collapsing.
At the beginning of 2001, after all those splits, Amazon shares were worth just $13.88 — meaning a $14,000 investment in Amazon back then would make you a millionaire today.