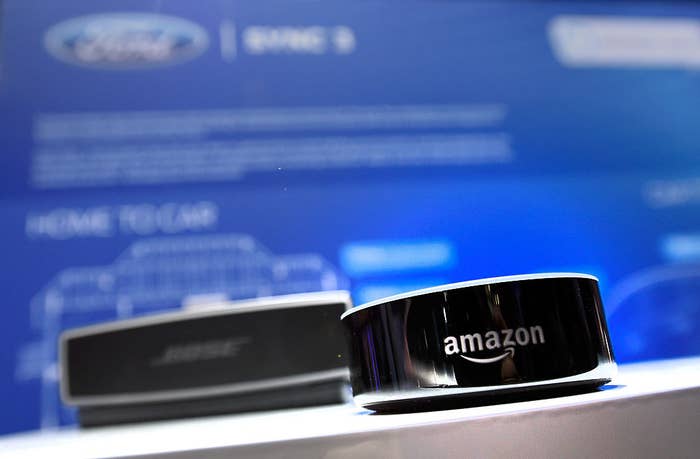 Amazon is moving around the e-commerce sales calendar out of pure force of will. Supplementing "Black Friday" and "Cyber Monday" — two major sales days tied to the year-end holidays — Amazon's "Prime Day," which starts 9 p.m. Monday and goes through Tuesday, disconnected from any other event, is a made-up, glitzy sales event to drum up consumption during retail's slow summer season.
"Sales historically in the summer have been in the doldrums," Tom Caporaso, the chief executive officer of Clarus Commerce, an e-commerce service company, said. "People are at the beach."
The day also appears to be prompting some of Amazon's rivals including eBay, Best Buy, Sears, and Kohl's to try to steal some attention with competing deals.
The "holiday" is only two years old, and the first Prime Day was widely criticized for not having a wide range of items people wanted to actually buy. AdAge declared that the first Prime Day was "less of a mega-sale than a crappy yard sale." The company still touted the day as a "great success," saying on an analyst conference call that it had signed up new Prime members and sold a huge number of devices. Amazon's chief financial officer described it as "Christmas in July" and "quite frankly, bigger...than Black Friday."
If there are any questions about the potential for made-up e-tail holidays to catch on, look no further than China's "Singles Day," which started out in the 1990s as a day to honor single people and then, in 2009, was commandeered by Alibaba and re-marketed as an opportunity to spend money on yourself on November 11. Now the world's largest online shopping holiday, Singles Day generates billions in sales for Chinese e-commerce giants such as Alibaba and JD.com.
This year, Amazon appears to be focusing on prompting sign-ups for Prime, and driving its most loyal customers even deeper into the Amazon universe; huge deals on Amazon-brand electronics will spur users to stream Amazon video content and routinely buy products through the site. Kindles are on sale for under $50 (a $30 discount); Amazon Echoes (they buy stuff through Amazon with your speaker) are 50% off; and a Dash button (which lets you buy stuff by pressing a button in your home) is only $0.99 and Amazon throws in a $4.99 credit after you press it for the first time. A Fire tablet (the read-e-books-and-watch-Amazon-Prime-videos device) is $29.99.
"They definitely have been more focused on the electronics...and getting people into the ecosystem," Caporaso said.
"Our focus on Prime Day is to delight customers with an epic day of deals on everything they're into. Members can shop for deals organized by more than 20 of the most-shopped-for themes — from shutterbugs to sports enthusiasts, gardeners to gamers and everything in between," Julie Law, an Amazon spokesperson, said.
Meanwhile, competitors are offering their own deals. Sears is offering free shipping with no minimums today and tomorrow, Macy's is offering 25% to 60% off on "everything summer," Kohl's has a variety of deals on summer-y items, and Best Buy is offering a wide range of deals on electronics, including items that directly compete with Amazon's, like a $25 Chromecast (listed at $35) and a $99 Google Home speaker, which is listed at $129.

eBay is getting in on it as well: offering a limited quantity of Google Home and Chromecast bundles for $99. The company went so far as to say "Their Prime Deal Is Our Everyday Deal."
Mark Zuckerberg announced on Facebook that the company was selling its Oculus Rift virtual reality headsets and controllers for $399 (the bundle had previously been listed at nearly $600). Dick's is offering a "Cyber Monday in July" with 20% off a range of items.

"Retailers are hoping for a halo effect of people in a shopping mindset in the summer," Caporaso said of the new day of steep discounting. "But it's a double-edged sword for retailers — how much do you compete with Amazon?"