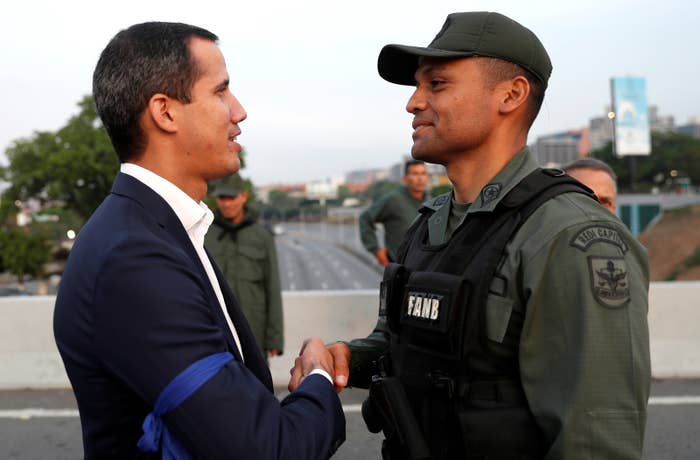 Venezuela's opposition leader has called for a military uprising in what the country's government said was an attempted coup.

Juan Guaidó, who declared himself interim president in January and has been recognized as president by most Latin American countries and the US, said soldiers should help him end the "usurpation" of President Nicolás Maduro.
Clashes between protesters and soldiers loyal to Maduro have taken place close to the La Carlota airbase in the capital Caracas from where Guaidó posted a video on Twitter at dawn on Tuesday morning flanked by armed men in military uniforms.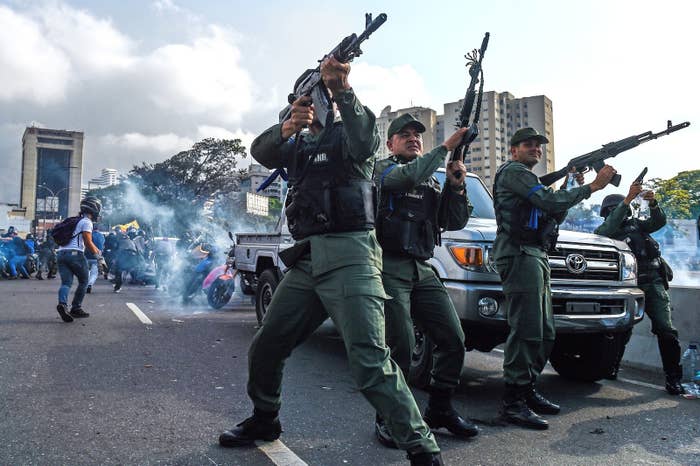 Disturbing footage showed armored vehicles driving into protesters on a bridge near to the airbase.
There have been huge street protests in Venezuela in the past months as the humanitarian and political crises have worsened, including hyperinflation, power blackouts and shortages to food and medicine.

But the army has generally supported Maduro, and there were no imminent signs on Tuesday of huge parts of the military switching their allegiance to Guaidó.

In a tweet, Maduro said he had spoken to the commanders of the armed forces who he said pledged loyalty to "the people, the constitution and the fatherland."
In response to the latest unrest, Venezuelan airspace was closed Tuesday.

Tension also spilled outside Venezuela, as a protest took place outside the Venezuelan embassy in Mexico City.

Alma Beck, a 29-year-old Venezuelan who has been living in Mexico City for 15 years, sang the anthem outside the embassy.
"What happened this morning is something we've been waiting for for so long. To wake up with this news," she said. "If this doesn't work everyone will know Venezuelans have done all we could."
Several of the pro-Maduro protestors, like Rosa María Hernandez, were Mexican, but said they were there to speak out against a "yankee" encroachment in Latin America. Referring to the chants from anti-Maduro protestors, Hernandez said, "They keep asking how much money I've been paid to come here. For them it's always about money."
"I am defending our right to chose who governs us, those are the values I stand for," Hernandez added. While most Latin American countries have pledged their support to Guaidó and his call for new elections, Mexico has instead maintained a "no-interference" stance.

In response to Guaidó's video this morning, Venezuelan Information Minister Jorge Rodríguez tweeted that a group of "military traitors" were trying to engineer a coup.
The day had begun with Guaidó appearing alongside opposition politician Leopoldo López at La Carlota airbase, surrounded by heavily armed men and armored vehicles. López had been under house arrest, but said he had been freed by members of the military loyal to Guaidó.
However, later on Tuesday it emerged López and his family were at the Chilean diplomatic compound in Caracas. Two of the López family's new houseguests include two other opposition leaders who have been in the compound for two years. He later moved to the Spanish embassy.
In a tweet Tuesday morning, Guaidó spoke of the "irreversible process of change" in Venezuela.
And in a follow up tweet hours later, appeared to call for more street demonstrations on Wednesday as his supporters carry out #OperationLiberty.