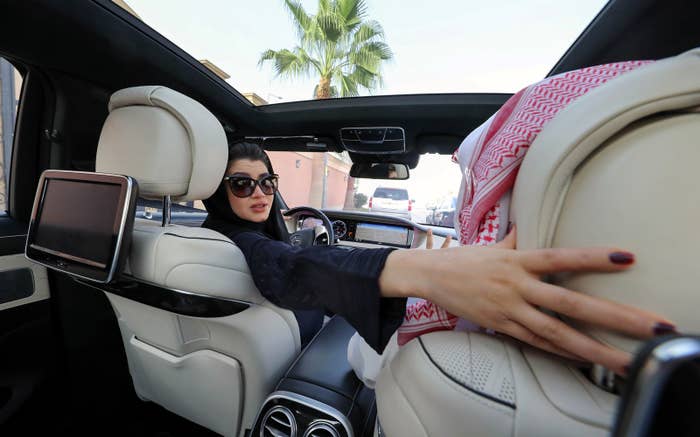 Saudi Arabia has detained several leading women's rights campaigners, just weeks before a long-standing ban on women driving is lifted.

At least six people were detained last week, and over the weekend state media branded them "traitors" in what Amnesty International dubbed a "chilling smear campaign" against them.
The women and men were accused of having "contact with foreign entities with the aim of undermining the country's stability and social fabric."
Among those held is Loujain al-Hathloul, a well-known campaigner against Saudi Arabia's ban on women driving, which is due to end next month, when the first licenses are issued.
Hathloul spent 73 days in jail in 2014 when she was arrested driving into Saudi Arabia from the United Arab Emirates in protest of the driving ban.
Eman al-Nafjan and Aziza al-Yousef, two other leading campaigners against the driving ban and Saudi Arabia's male guardianship system (where male approval is required for many decisions women make), have also been arrested, Amnesty International said.
Saudi women's rights campaigner Manal al-Sharif, who lives in Australia, said she had received threats following the smear campaign.
Saudi Arabia's crown prince Mohammed bin Salman has promised multiple reforms since last June, and in September, a royal decree was issued granting women the right to drive. But at the same time, campaigners and bloggers were warned not to speak to media or post on their own social media accounts about the reforms.

Amnesty International's Middle East director of campaigns, Samah Hadid, said the crown prince has "presented himself as a "reformer," but such promises fall flat amid the intensifying crackdown on dissenting voices in the kingdom. His pledges amount to very little if those who fought for the right to drive are now all behind bars for peacefully campaigning for freedom of movement and equality.
"We are calling for the immediate and unconditional release of all activists still being detained solely for their human rights work."
Sarah Leah Whitson, Middle East director at Human Rights Watch, said the reform campaign had been a "frenzy of fear for genuine Saudi reformers who dare to advocate publicly for human rights or women's empowerment.
"The message is clear that anyone expressing skepticism about the crown prince's rights agenda faces time in jail."