An Anti-Islamic Song Outsold Adele So Amazon Donated Proceeds To Refugee Charities
The Pegida anthem overtook "Hello" at the top of the download charts in Germany.
Pegida is a far-right, anti-Islam, anti-immigration street protest movement formed in Germany last December.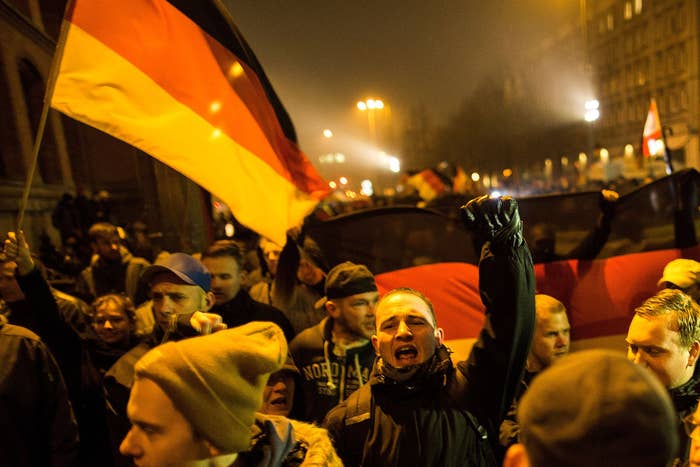 For Christmas they released a single to raise money for the group, a wordless anthem called "Gemeinsam Sind Wir Stark!" ("Together We Are Strong!"), which was originally made to mark the first anniversary of Pegida (Patriotic Europeans Against the Islamisation of the Occident) being founded.
The group is trying to reposition itself as the main opposition movement to German chancellor Angela Merkel's refugee policies.
The song was released on Dec. 21, and the Local website reports that after being picked up by German media, downloads soared, sending it past Adele's "Hello" to the top of the Amazon charts.
In response, Amazon.de has said it will donate proceeds from downloads of the song to charities supporting refugees.
A note on the song's Amazon page says: "Proceeds from Amazon from the sale of this song will go to a non-profit organisation aiming to help refugees."
BuzzFeed News has contacted Amazon to ask how much of the song's €1.29 ($1.41) price will be donated to charity, and to which organisations specifically.
Amazon has been the subject of controversy in Germany over its tax arrangements. In May it was revealed that the company had paid just $16 million in tax despite sales in the country of almost $12 billion.
Writing on Twitter, Pegida founder Lutz Bachmann thanked the "idiot lefties" and the "#LiesMedia" for the publicity.
The reaction to the song itself is polarised.
Thomas Müller wrote: "The song is OK, the idea behind it but great."
A user called HJ said: "Bought to support a vibrant democracy!"
Other people were less convinced, despite the five-star reviews.
Party-Idiot Patriot wrote: "Unfortunately the product is not working. I have listened to the song several times with my friends, unfortunately we were neither stronger nor more German."
A reviewer called Dorian Grey said: "Super, in time for Christmas, here are all the arguments of Pegida in musical form, collected in a single, glorious anthem that should silence the fiercest critics: 'Mmmmm mmmmmmmhhh, mmmmmm mmmmmhhhhh. Mmmm mmmmhhhhhh. Mmmmm mmmmhhhhh!'"