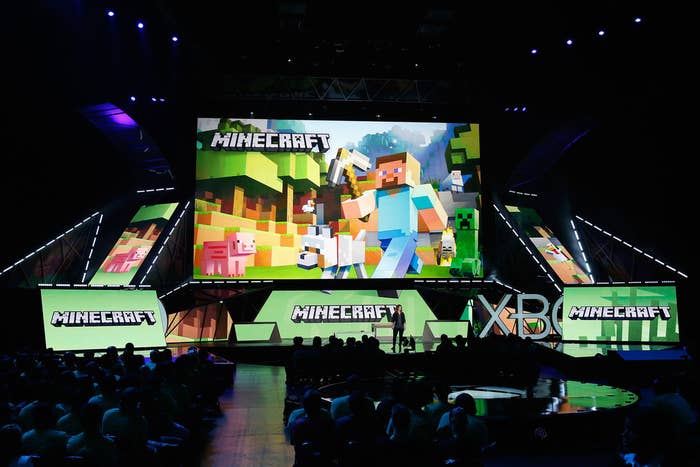 There was a great roaring cacophony at Microsoft's Xbox event on Monday in Los Angeles at the University of Southern California's Galen Center arena, as the company previewed upcoming game titles, showed off some new hardware and features, and generally got a crowd of thousands excited for what's to come this year for Xbox One. But mostly: games. It was two hours of big thudding explosions and flashing lights and headshots and kill! kill! kill! kill!
"Epic worlds, epic battles, epic scale," boasted Microsoft's Bonnie Ross. "This is Halo 5 Guardians!"
Within four minutes of getting underway, everything was very loud and the massive screen at the back of USC's Galen Center was filled with design fiction weapons and design fiction death from above and below and just around the corner where you couldn't quite see it coming. During an ad for a game called ReCore, there was a woman and a cute robot dog with a blue orb for a belly and it all seemed quite charming until everything went to hell and the arena was VERY LOUD again and people were hooting and applauding. A man who looked like a wizard in velvet or a druid or a 1970s occult bookshop clerk was sitting next to me looking unhappy and typing furiously, furiously. By the time 20 minutes had elapsed, my Apple Watch told me I should stand up, but of course I already knew this.
But then there were more explosions and more aliens and more gunshots as more and more not-quite-people died in a glorious Saint Vitus' dance of pixel-perfect violence and gore. Which, objectively, people fucking loved. Boom! Boom! Boom! (Master Chief is a wonder.) At one point, immediately after a particularly gruesome simulated headshot, a man behind me and to my left groaned loudly and performatively, the way one might during a particularly intense perineal massage.
But the biggest uproar of the day, by far, came at the announcement that Xbox One will now play Xbox 360 games. That is, you can play your old games on the new consoles.
It was on point, given how much of the event seemed to be stuck in the past. The aliens, for example, looked very much like modernized versions of the Alien alien. And for all the emotional realism of the titles that paraded across the screen, most seemed a lot like, well, Doom. They seemed like reruns, or at least sequels — which of course many were. There was Fallout 4 and Halo 5 and Gears 4 and Forza Motorsport 6 and Rise of the Tomb Raider (which I believe is basically Tomb Raider 10 unless I have miscounted) and Plants vs. Zombies: Garden Warfare 2.
It was not all that way, of course. The ID@Xbox presentation — the part of the show dedicated to independent games — had several interesting-looking games. There was one called Cuphead that looked like a vintage Disney cartoon from the 1930s, which everyone in the audience seemed to love (and which caused the wizard in velvet sitting next to me to clap wildly and to yell in approval and suddenly I felt much closer to the wizard). Ashen, with its blank faces and intentional rough edges, at least looked different, which was something among all the sameness. And then there was Beyond Eyes, which its developer called a story of hope about a blind girl, which looked almost like an impressionistic watercolor painting. People clapped politely.
And all of this, all of it, may seem like I am unimpressed, but I am not. Because there was something there that knocked me back in my seat — and it wasn't the more customizable Xbox controller, or a hyperrealistic bleed-out.
It was Minecraft.
Boxy, boxy, multibillion-dollar-payday Minecraft.
Toward the end of the show, Microsoft ran a demo of a version of Minecraft designed for HoloLens, its augmented reality headset — basically, a set of glasses that lets you see things in the real world that are not actually there. In it, the company showed how HoloLens could project a Minecraft world onto a blank table. You could peer down into it, or plunk blocks on top of it. You could really get into it.
OK, a big caveat: What Microsoft showed doesn't seem possible yet, at least not from the developer preview of HoloLens I tried at its Build conference. The vision onstage at Microsoft's E3 keynote seemed to be just that: a vision for a future version of the product.
But still. It seemed far more exciting, and far more futuristic, than the parade of nearly identical first-person shooters with more advanced graphics. It was a quiet moment in an otherwise very loud morning. It was a moment to think, and spin things forward. It was human, and inviting, and quite nice to sit and think about.
And then, it was on to the next title, and the one after that. Like Fable Legends, the sixth (or possibly seventh) title in the Fable series, which features nymphs and ogres and fighting and stuff. The graphics were simply beautiful. And overall, it was quite loud.