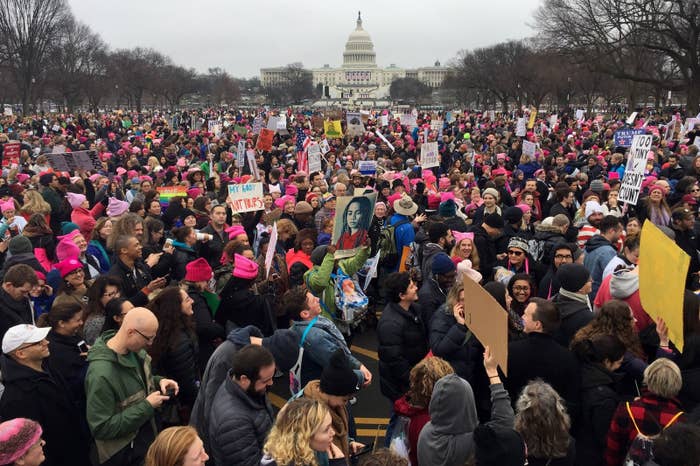 The Women's March — the group that drew hundreds of thousands of people to demonstrate nationwide after Donald Trump's inauguration — said Friday it will now back corporate boycotts, joining two other similar movements driven by social media.

"On March 8th, International Women's Day, women and our allies will act together creatively to withdraw from corporations that harm us and find ways to support the businesses, organizations and communities that sustain us," the group, which is currently organizing "A Day Without a Woman," posted on its website.
The organizers said they "support and admire" the efforts of the #DivestDAPL and #GrabYourWallet movements. The former calls for people to remove their finances from banks that fund the Dakota Access Pipeline, and the latter, which began in October 2016, calls for the boycott of retailers that do business with the Trump family.
#GrabYourWallet, which was started by Shannon Coulter, called on people to stop shopping at stores such as Nordstrom, Macy's, Bloomingdales, and others.
A number of big-name retailers, including Neiman Marcus, Wayfair, and Sears, have severed financial ties with Trump products — though none of the retailers have cited the boycott specifically as the reason why.
Earlier this month, Nordstrom dropped Ivanka Trump's brand citing declining sales. "Each year we cut about 10% and refresh our assortment with about the same amount," a Nordstrom spokesperson told BuzzFeed News at the time. "In this case, based on the brand's performance we've decided not to buy it for this season."
Women's March organizers are also calling on supporters to boycott banks that are funding the Dakota Access Pipeline, such as Bank of America, Goldman Sachs, Morgan Stanley, and Wells Fargo.
The Women's March tweeted on Friday, "We must put our money where our mouths are. We marched. Now we divest," with a link to 37 banks funding the DAPL.
They're also asking women to financially support businesses on March 8 — International Women's Day — that strive for gender equity and align with a sustainable environment, and "make plans to stand up for economic justice, affirmatively building community, and supporting local women — and minority owned-businesses."
"This is all of the information we have to share at this time," a Women's March spokesperson told BuzzFeed News.
On the Women's March website, organizers say, "We are asking more of you this time, because you have demonstrated our collective power, because you have pledged your commitment to this movement."