Phi Kappa Psi Calls On "Rolling Stone" To Hold Someone Accountable For UVA Article
Columbia University's journalism school published a scathing report Sunday concerning Rolling Stone's article about an alleged 2012 rape at a University of Virginia fraternity house. BuzzFeed News reporter Mary Ann Georgantopoulos is at the news conference where the lead authors are addressing their findings.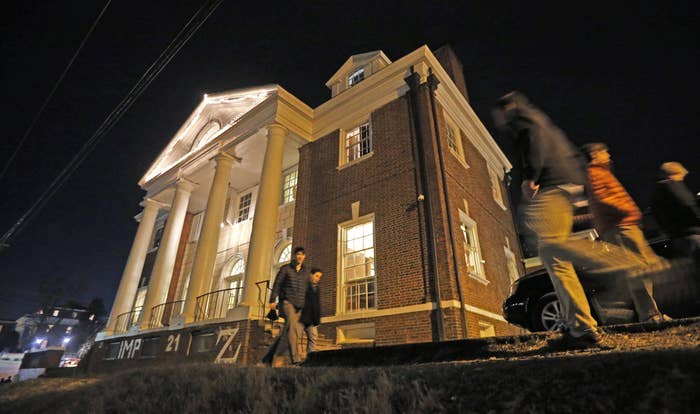 What We Know So Far
Columbia University journalism school officials are addressing their scathing report, published Sunday, into a retracted Rolling Stone article about an alleged rape at the University of Virginia Campus.
The magazine published the December 2014 report alleging a woman named "Jackie" was gang-raped at a fraternity house that was immediately questioned by reporters.
The fraternity announced Monday it will pursue legal action against the magazine.
Columbia report author Sheila Coronel said that "we don't believe in this case Jackie was to blame" and that the fault was with the reporter, editors, and fact-checkers.
Charlottesville, Virginia, police investigated the report and said "we have no evidence to support those assertions" about a rape, though the local chief said he does think something happened to Jackie during the evening in question.
Updates
Phi Kappa Psi national fraternity on Tuesday called on the publisher of Rolling Stone to hold those responsible for the article accountable for their mistakes.
The fraternity said in a statement that it completely supports its UVA chapter in its planned legal action against the magazine, saying its members suffered greatly from the article.
"The writer, editor, and involved with the journalistic and editorial process recklessly and without foundation or corroboration, published a lurid and fictitious account that not only destroyed reputations but more seriously, undermined the credibility of all victims of sexual assault," it said.
The fraternity said it was disgusted that reporter Sabrina Erdley has said she failed to adequately fact check the story out of concern for "Jackie" and granted her anonymity, but had no problem naming the fraternity.
"A great deal of damage has been done without consequence to the perpetrators of this outrage," it said.
Virginia Gov. Terry McAuliffe released a statement Monday condemning the Rolling Stone article and the "untold damage" it caused.
"The abject failure of accountability in journalism that led to Rolling Stone's 'A Rape on Campus' article has done untold damage to the University of Virginia and our Commonwealth as a whole," McAuliffe said in his statement. "More importantly, this false account has been an unnecessary and dangerous distraction from real efforts to combat sexual violence on our college campuses."
The UVA chapter of Phi Kappa Psi announced Monday it is planning on pursuing legal action against Rolling Stone over the article, according to a statement given to the Associated Press.
The fraternity members said that the article led them to be ostracized and caused their house to be vandalized, the AP and CNN reported.
"After 130 days of living under a cloud of suspicion as a result of reckless reporting by Rolling Stone magazine, today the Virginia Alpha Chapter of Phi Kappa Psi announced plans to pursue all available legal action against the magazine," the fraternity said in a statement to CNN.
"This type of reporting serves as a sad example of a serious decline in journalistic standards," the fraternity's president Stephen Scipione said to the AP.
The fraternity added that photos of their fraternity are constantly used as an example of rape on campus by news organizations.
Erdely "could have walked away from Jackie as an example."
Coronel said that while Erdely took six months to report the story, she could have walked away from Jackie as an example as she had other stronger stories to tell.
"We have no contact with Jackie... and her lawyers refuse to answer our questions," Coronel said.
The reporter, Sabrina Rubin Erdely, "broke down" while narrating the part about when she realized that Jackie's account was untrue.
Coronel, who spent two days with Erdely in Philadelphia, said that "it was very painful" for the writer to feel that she had been betrayed by a source she trusted and had invested a lot of time and emotions in.
"The moment that she nearly broke down was the moment when she was narrating that Jackie's account was untrue," Coronel said.
Coll said that the report was consistent with Erdely's ardent statement that she believed Jackie's account to be true as she was constantly in touch with Jackie and that she looked for other ways to "shore up the story, though she didn't do nearly enough in our judgement."
Coll said that Erdely was very professional and responsive to all their questions.
Rolling Stone should experiment with "clearer, fuller, more routine attribution" in this kind of complex reporting, Coll said.
"We disagree with any suggestion that it was Jackie's fault," Coll reiterated.
Coll said that it was a failure of methodology in reporting and editing and "not the subject's failure."
If a story fits a prevailing narrative "you should be even more skeptical about it," Coronel said.
Rolling Stone's "writers and editors took shelter under the defense" that they were too sensitive to Jackie's position.
Coll said that the report's purpose was to make clear that the evidence did not support the magazine's public defense — in the aftermath of the story's unraveling — that they were too sensitive to Jackie's position.
Rolling Stone approached Columbia to conduct the review because they wanted it to be a "teachable error," Coll said.
"We leave it to Rolling Stone to decide how best to deal with these problems," Dean Steve Coll said.
Pressed by reporters to respond to the magazine's decision not to fire anyone in the wake of the report, Coll and Coronel said their job was to point out to "systematic and institutional problems" and that it was up to Rolling Stone to deal with these problems.
Rolling Stone's managing editor Will Dana "was fairly removed from the actual supervision and editing of the story."
"We don't believe Jackie was to blame," Coronel said.
"It was the collective fault of the reporter, the editor...and the fact-checking department."
Academic Dean Sheila Coronel said that it was never the report's intention to make Jackie's identity public.
"Her name was out there. There was no reason for us to make known her identity," Coorenol said in response to a question about revealing true Jackie's identity in the report.
---