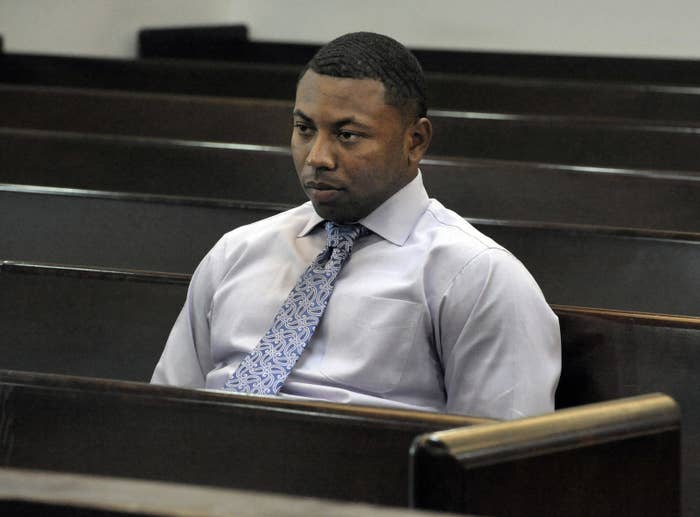 Jaborian "Tip" McKenzie, the fourth and final former Vanderbilt football player charged in the 2013 rape of an unconscious female student, will serve 10 years probation Monday after his testimony helped secure guilty verdicts for his teammates.
McKenzie had been charged with five counts of aggravated rape and two counts of aggravated sexual battery. He cooperated with prosecutors, testifying against his teammates, and pleaded guilty to a lesser charge of facilitation of aggravated rape.
Unlike his teammates, McKenzie will not serve prison time. Instead, he will get 10 years probation and will remain on the sex offender list for life.

"The victim in this case can get some peace," prosecutor Jan Norman told the Tennessean after Monday's hearing. "It's been almost five entire years, and for her to have that moment of this ending and this not being something that is talked about in the public on a regular basis, she absolutely deserves that."
The case stems from the 2013 rape of an unconscious female student in a Vanderbilt dorm. Police discovered a rape had occurred when they were called to the building to investigate a report of vandalism. Video surveillance from the dormitory viewed by police also showed four men carrying an unconscious woman.

In 2016, Brandon Vandenburg, who prosecutors said instigated the assault, was sentenced to 17 years behind bars for encouraging his teammates to sexually assault the woman, who at the time was a senior at the university.
Cory Batey and Brandon Banks were convicted and sentenced to 15 years in prison for their roles in the rape.

Norman, the prosecutor, told the jury in Banks's trial that deleted video — recovered by Metro Nashville Police detectives from an iPhone weeks after the assault — shows Banks penetrating the woman with a water bottle.

McKenzie testified during Banks's trial that he assaulted the woman with the bottle.

"It's Brandon Vandenburg recording, laughing, egging it on," he testified. "Brandon Banks reaching squeezing a bottle. Cory Batey attempting to have sex and Vandenburg saying you're not hard yet."
McKenzie testified in the previous trials that he watched his teammates assault the woman and take photos of her but that he did not touch her.
CORRECTION
Cory Batey's name was misspelled in an earlier version of this post.