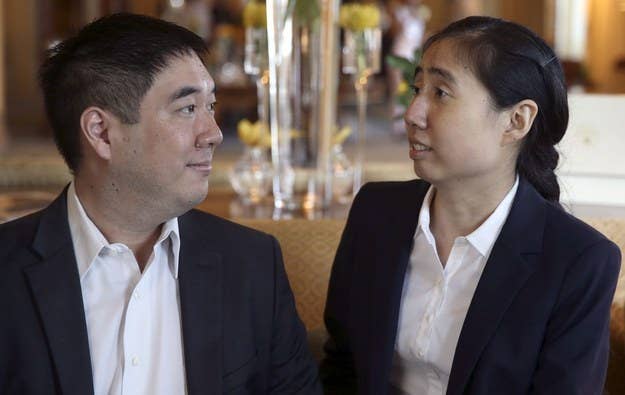 Following setbacks at the Qatar airport, Matthew and Grace Huang are expected to return to the United States after being cleared in the death of their daughter, CNN is reporting, citing diplomatic sources.
The Huangs were found guilty of child endangerment after their adopted daughter Gloria died in 2013. In March they were sentenced to three years in prison, but were free on bail pending the appeal.
On Sunday, an appeals court in Qatar cleared the couple in the death of the 8-year-old, but the parents were barred from leaving the country as their passports were confiscated in the capital, Doha, when they tried to pass through airport immigration control, said Eric Volz, a family representative who is traveling with the couple.
A judge overturned their child endangerment conviction. A doctor in Qatar who conducted the autopsy on Gloria, who was adopted from Ghana, concluded dehydration and wasting disease were the cause of death. The parents have maintained their innocence, claiming Gloria suffered from medical problems. Prosecutors alleged Gloria died after being denied food and locked in her room.
According to a report prepared in the U.S. by Janice Ophoven, a pediatric forensic psychologist who reviewed the case for the Huang family, Gloria suffered from medical problems and was severely malnourished when she was younger. These problems were complicated by unusual eating habits such as refusing to eat for days before binging and getting food from places such as garbage cans and from strangers.
"It has been a long and emotional trial for me and my family, and Grace and I want to go home and be reunited with our sons," Matthew Huang told reporters shortly after the ruling. "We have been unable to grieve our daughter."
Matthew Huang had been working on construction projects in Qatar for the 2022 World Cup.
U.S. Secretary of State John Kerry welcomed the court's decision to overturn the conviction but said the U.S. was "deeply concerned about new delays that have prevented their departure."
"The thoroughly documented findings of the court clearly establish the Huangs' innocence" Kerry said in a news release. "The 22 long months of court proceedings following their daughters tragic death have compounded the tragedy for the Huang family, and it is time now, as the Appeals Court stated, to let the Huangs return home."
The Huangs will return to their home in Los Angeles where they will be reunited with their two other children, who were also adopted from Africa.