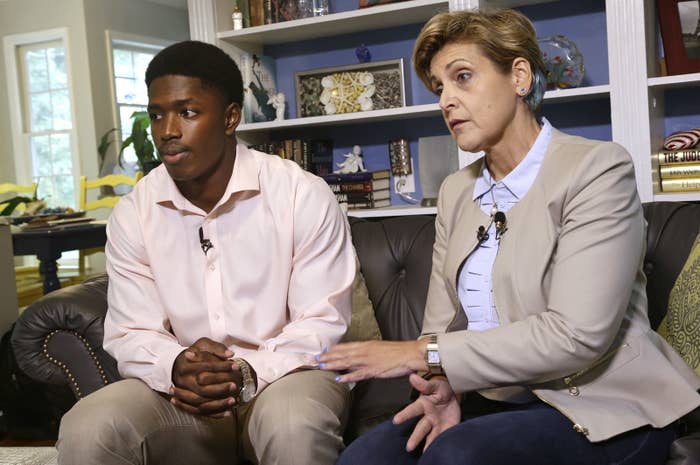 A University of North Carolina football player who was accused of rape earlier this month maintains the sex was consensual.
"I did not rape her," Allen Artis told WRAL News.
Delaney Robinson, 19, alleged this month that she was raped by Artis, a UNC junior and football linebacker, at Ram Village apartments on campus on Feb.14
Robinson admits to drinking that night but said "that doesn't give anyone the right to violate me. I did not deserve to be raped."
Artis told WRAL News he was "surprised, hurt, and distraught," by the woman's allegations, adding that she was conscious when they had sex.

"False accusations like that can affect my reputation," he said. "My last name, I share with everyone in my family. It's important to me — it means something — and the people who share it, I don't want them hurt by that."
The woman, a sophomore at UNC, requested self-sworn warrants charging Artis with misdemeanor sexual battery and misdemeanor assault on a female. He turned himself in and is out on a $5,000 unsecured bond.
He was also suspended indefinitely from the football team.

Artis' lawyer, Kerry Sutton, said her client took a polygraph test about the Valentine's Day incident and the results came back "no deception."

"I'm not saying she's lying," Sutton said. "I'm saying we have facts that support that what happened that night was completely consensual. In every one of these cases we work on, both sides completely believe what it is that they believe."
The woman was also critical of UNC saying she received an ineffective investigation by the University of North Carolina Department of Public Safety and school officials.
"For more than six months we have asked the University and the Orange County District Attorney's office to hold Delaney's rapist accountable for his actions," Robinson's attorney, Denise Branch, said in a statement. "At every turn we have been met with discouragement and delay."