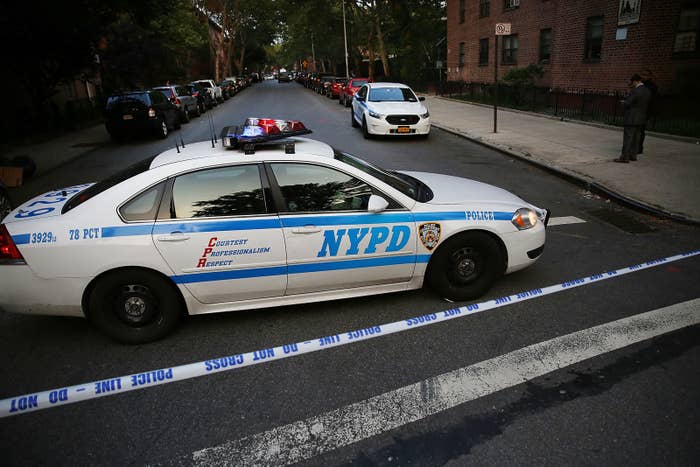 Two NYPD sergeants were shot, one fatally, around 3 p.m. Friday in the Bronx while responding to a call that an armed man broke into an apartment.
Sgt. Paul Tuozzolo, a 19-year veteran of the NYPD, was shot and killed when officials said Manuel Rosales, 35, opened fire.
Officers were responding to a call from a woman reporting a man with a gun broke into her apartment. The woman said the man fled in a red jeep.
Less than 10 minutes later, a marked police car located a jeep that fit the description. When officers approached the vehicle, which was stopped, Rosales fired at them, fatally striking Tuozzolo, a father of two, in the head, NYPD Commissioner James O'Neill said.
The officers returned fire, killing Rosales.
"The city is in mourning and the family of the NYPD is in mourning," Mayor Bill de Blasio said in a press conference. "We lost a very good man, a devoted man, a man who committed his life to protecting all of us."
The second sergeant injured in the shootout, Emmanuel Kwo, a nine-year veteran of the NYPD, was struck multiple times in the right leg and is in stable condition, O'Neill said.
"I always talk about what a great job this is, but there is nothing worse than a day like today," O'Neill said.
O'Neill said Rosales broke into the apartment of his estranged wife. Rosales had 17 prior arrests with Suffolk County, and online court records indicate Rosales had several pending domestic violence cases since June.

Residents of the neighborhood told BuzzFeed News they heard multiple shots fired — some reporting having heard up to six.

A woman who lives half a block away from the scene but did not want to provide her name said she heard screeching of tires and then gunfire.
"Looked outside, you saw cops going one way, cops coming from the other," Gary Mayo, who lives in the area, told BuzzFeed News. "You could tell something bad happened."
Lance Whitley, who also lives in the area, told BuzzFeed News the shooting happened just as school was getting out.
"Today, a sergeant in the New York City Police Department has made the ultimate sacrifice in the line of duty, and another officer is undergoing treatment," Gov. Andrew Cuomo said in a statement. "My deepest sympathies are with the families of the officers."
Angel Chavez, 28, said he was arriving home when it happened, and that he saw "a lot of chaos."
"Saw an officer crying," he said. "You could just tell something big happened."
The shooting happened outside the same address where, in 2012, a woman killed her two children and attempted suicide.

CORRECTION
The woman who murdered her children survived her own suicide attempt. Due to an editing error, a previous version of this story reported that she killed herself.