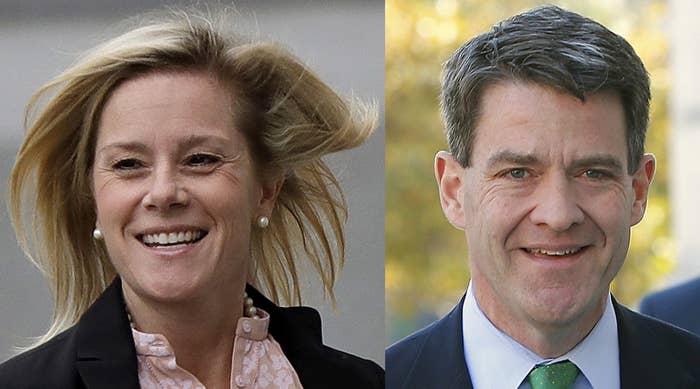 Two former allies to New Jersey governor Chris Christie were convicted Friday in plotting to use traffic jams as political retaliation against a mayor who refused to endorse the governor for re-election.

Bridget Kelly, Christie's former deputy chief of staff, and Bill Baroni, a Christie appointee to the Port Authority of New York and New Jersey were found guilty on all counts for helping orchestrate the closing of lanes on the George Washington Bridge in September 2013, causing a massive traffic jam.

Prosecutors charged that Kelly and Baroni helped Christie's ally David Wildstein in closing the lanes and creating a traffic jam to punish Fort Lee mayor Mark Sokolich, for not endorsing Christie during his re-election campaign. Wildstein had previously pled guilty.
The seven-week trial cast doubt on Christie's assertion that he was unaware of the scheme. Christie, who is the chairman of Donald Trump's White House transition team should he win the presidency, has not been charged in the case.

Wildstein, who served as the prosecution's key witness, testified that Christie knew about the lanes closing. The governor has repeatedly denied knowing of the closures, insisting he only found out weeks after they happened and months before learning members of his staff were involved.
Wildstein testified that during a September 11 memorial ceremony in 2013, Baroni sarcastically told Christie, "Governor, there is a tremendous amount of traffic in Fort Lee, please know Mayor Sokolich is frustrated he can't get his calls returned," NBC News reported.

Christie laughed and responded, "I imagine they wouldn't be getting their calls returned," Wildstein testified.
It is unclear from Wildstein's testimony whether Christie knew the traffic jams were manufactured for political reasons.
Kelly and Baroni also testified that the governor knew about the lane closings either before or while they were happening.
On Friday, Christie reiterated that he was not involved in the case.
"Let me be clear once again, I had no knowledge prior to or during these lane realignments, and had no role in authorizing them," Christie said in a statement. "No believable evidence was presented to contradict that fact. Anything said to the contrary over the past six weeks in court is simply untrue."

John Podesta, Hillary Clinton's campaign chairman, said Friday that Trump should ask Christie to resign as the head of his transition.

Speaking to reporters, Podesta said, "His two top aides today were just convicted of corruption for political intimidation, so rather than just crisscrossing the country and hopscotching and talking about cleaning up the swamp, he might start by draining his own swamp and asking Mr. Christie to resign as the head of his transition."

Lawyers for Kelly and Baroni said their clients believed the lane closures to be part of a traffic study, saying that is what Wildstein told them.
One of the most damning pieces of evidence was an August 2013 email Kelly wrote stating, "Time for some traffic problems in Fort Lee."
The following month, when mayor Sokolich complained about the traffic jam, Kelly reportedly texted, "Is it wrong that I am smiling?"
On the stand, Kelly said that she wrote she was smiling because she believed the traffic study was going well, according to the Associated Press.
Baroni and Kelly face up to 20 years in prison and will be sentenced on February 21, 2017. Their lawyers said they will appeal Friday's verdict.