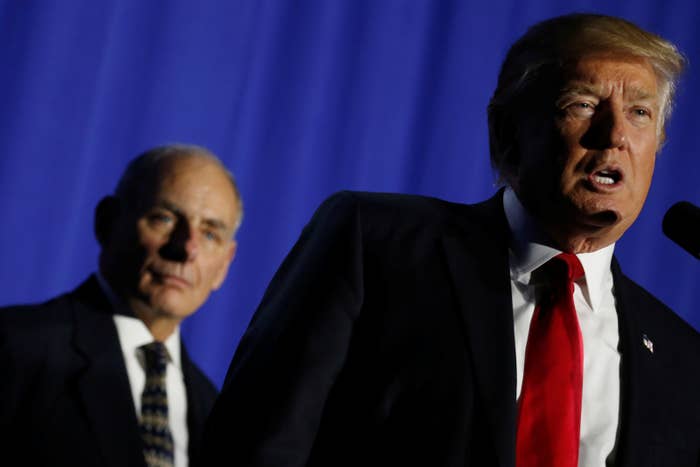 President Donald Trump signed two executive orders at the Department of Homeland Security Wednesday that will begin construction of a wall along the US–Mexico border and strip funding for sanctuary cities.
The orders on immigration were among the main promises repeated by Trump on the campaign trail. State and city officials who support sanctuary cities, however, immediately pushed back on Trump's orders, calling them unconstitutional and promising to fight the White House in court.
The first order is to "build a large physical barrier on the southern border," press secretary Sean Spicer said. "This will stem the flow of drugs, crime, illegal immigration into the United States and, yes, one way or another as the president has said before, Mexico will pay for it."
Speaking from the Department of Homeland Security Wednesday, Trump said his orders would also seek to hire 5,000 border patrol officers, tripling the number of ICE officers, and create an office in the Department of Homeland Security to "support the victims of illegal immigrant crime."
The president said that despite the orders, the US would be working within existing laws to stem illegal immigration.
"We do not need new laws," Trump said. "We will work within the existing system and framework."
Construction of the wall will begin in months, Trump told ABC News in an interview. He insisted that Mexico would reimburse the US "100%."
"All it is, is we'll be reimbursed at a later date from whatever transaction we make from Mexico," he told ABC. "I'm just telling you there will be a payment. It will be in a form, perhaps a complicated form. What I'm doing is good for the United States. It's also going to be good for Mexico. We want to have a very stable, very solid Mexico."

The Mexican president is scheduled to visit the US next week, but a person familiar with the matter told BuzzFeed News that President Peña Nieto is considering canceling the visit.

In his comments Wednesday afternoon, Trump seemed to focus not on immigration from Mexico but Central America, depicting Mexico as a country also negatively impacted by the flow of immigrants.
"We're in the middle of a crisis on our southern border," Trump said. "The unprecedented surge of illegal migrants from Central America is harming both Mexico and the United States."
The orders signed Wednesday, Spicer said, will also "create more detention agreements along the southern border to make it easier and cheaper to detain" people, "and return them to their country of origin."

The order will also end "the catch and release policy," Spicer said, adding, "we'll prioritize the prosecution and deportation of illegal immigrants who have otherwise violated our laws."
The second executive order will focus on "enhancing public safety in the interior of the United States," Spicer said — such as stripping funds from sanctuary cities.

"The State Department will withhold visas and use other tools to make sure countries accept and return the criminals that came from their country," he added, saying "we're going to strip federal grant money" from "states and cities that harbor illegal immigrants."
That order was quickly denounced by officials supportive of sanctuary cities, who argued local resources should not be used to enforce federal laws, and that not having local police enforce federal laws helps ensure undocumented immigrants cooperate with law enforcement to reduce local crime.
California state Senator and Majority Leader Kevin de León vowed to take the fight between the White House and sanctuary cities to court.
"If the new president wants to wage a campaign of fear against innocent families, he can count us out," de León said at a press conference Wednesday. "We will not spend a cent or lift a finger to help his actions."
New York Attorney General Eric T. Schneiderman called the orders "unconstitutional," and urged Trump to revoke the orders.
"The President lacks the constitutional authority to cut off funding to states and cities simply because they have lawfully acted to protect immigrant families," he said in a statement. "Local governments seeking to protect their immigrant communities from federal overreach have every right to do so."
If the orders are not revoked, Scheiderman said, he would "do everything in my power to fight it."
The American Civil Liberties Union also threatened legal action to fight the executive orders, not just if the White House withdraws money from sanctuary cities, but over the president's order to stop "catch and release."
"Locking up asylum seekers who pose no danger or flight risk is unconstitutional and benefits nobody except private prison corporations and politicians looking to score rhetorical points," Omar Jadwat, director of the ACLU's Immigrants' Rights Project said in a statement. "We will see the Trump administration in court if they go down that road."
Other cities also vowed to fight back against Trump's orders Wednesday, including Seattle's Mayor Ed Murray, who said it was "the darkest day in immigration history in America since the internment of Japanese Americans in the Second World War."
Seattle would defy the order, Murray said, adding that he had directed his staff to "prioritize budgets" in case that federal funding is withdrawn.
"We will not be intimidated by federal dollars and we will not be intimidated by the authoritative message from this administration," he said.
In Boston, Mayor Martin J. Walsh echoed the sentiment, saying his city would "not retreat one inch" and would use City Hall itself as a sanctuary for all residents of Boston.
Trump did not address whether priorities in deportation orders would change, or what would happen with those who were part of the Deferred Action for Childhood Arrivals program, which allows children who were brought to the US at an early stage to remain.
The president's tone, however, seemed to strike a different note. Spicer also did not clarify what would happen with DACA participants.
"Pundits talk about how enforcing laws can separate illegal immigrant families, but the families they don't talk about are the families of Americans," Trump said. "As your president, I have no higher duty than to protect the lives of the American people."
Spicer was also asked if the White House stopped and made National Park Service agencies delete tweets that were critical of — and in some cases appeared to be subtweets of — Trump. (People think the Defense Department subtweeted Trump as well.)
"There's nothing that's come from the White House, absolutely not," Spicer said, saying that an "unauthorized user had an old password in the San Francisco office, went in, and started retweeting inappropriate things that were in violation of their policy."

"I know this happened in the EPA is another example I think of social media contact," he said.
Here's the text of the executive order concerning the wall and other issues:
Here's the text of the executive order concerning sanctuary cities and other issues: