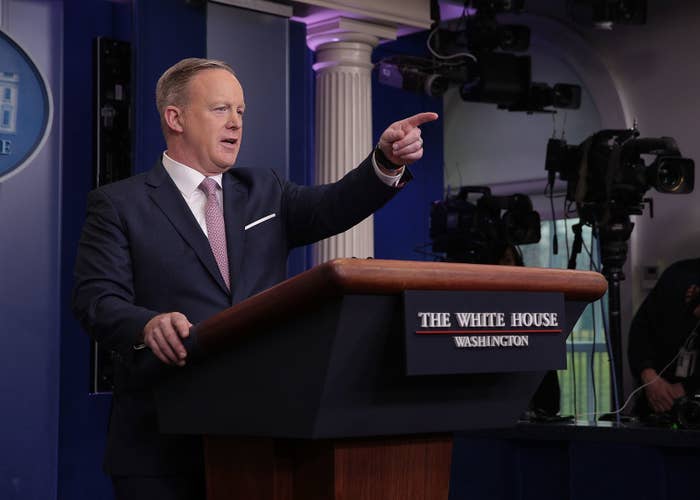 Donald Trump's spokesman, Sean Spicer, laid out misleading and confusing numbers on Monday to claim — for the second time in two days — that the president's inauguration was the most watched in history.
On Saturday, in a bizarre address where he berated outlets that showed aerial photographs comparing Trump's smaller inaugural crowd size to Obama's in 2009 and 2013, Spicer said, "This was the largest audience to ever witness an inauguration, period, both in person and around the globe." He was subsequently blasted for the lie.
On Monday, Spicer repeated the claim, only this time saying the total audience who watched the inauguration was the highest when taking into account the in-person crowd, the television audience, and online viewership. "When you add up attendance, viewership, total audience in terms of tablets, phones, on television, I'd love to see any information that proves that otherwise," Spicer said.
"I'm just saying, you're asking me a question about my integrity. I have a right to say if you add up the network streaming numbers, Facebook, YouTube, all of the various livestreaming that we have information on so far, I don't think there's any question it was — that it was the largest watched inauguration, ever," he said, adding, "I'm pretty sure that Reagan didn't have YouTube, Facebook, or the Internet."
But television and online ratings are measured in different ways.
Approximately 30.6 million people watched Trump's inauguration on television, according to Nielsen ratings. That's less than Barack Obama's 2009 inauguration, which was watched by an estimated 37.8 million, and Ronald Reagan's inauguration in 1981, which was watched by approximately 41.8 million people.
"It was the most watched inaugural," Spicer said during Monday's press conference, where he took questions. "You look at just one network alone got 16.9 million people online. Another couple of the networks, there were tens of millions of people that watched that online. Never mind the audience that was here, 31 million people watched it on television, combine that with the tens of millions of people that watched it online on a device."
The network Spicer cites is CNN, which said 16.9 million people watched its online stream.
CNN's number is how many times the stream was started — which can include someone watching it for just a few seconds, or someone who started and stopped the stream more than once.
The network also released the maximum number of concurrent viewers. At peak viewership, there were 2.3 million people watching at the same time, CNN said.
"It's an overall picture of who might have access to [the digital stream]," Syliva Chan-Olmsted, a professor at the University of Florida's department of telecommunication, told BuzzFeed News. She explained in one hypothetical that "people might have clicked on it by mistake."
Nielsen's ratings are measured by average audience per minute — not a cumulative number of people who may have tuned in at any part of the ceremony.
"Online views or initiations has nothing to do with the average telecast," Richard Greenfield, a media and tech analyst, told BuzzFeed News. "To make it a fair comparison, the question is, what was the average minute audience for the stream, not the total views."
Chan-Olmstead agreed that comparing the numbers released by CNN and Nielsen is not an accurate representation of viewership. "There is actually no apples-to-apples cross-platform comparable," she said, adding that the two numbers could possibly include duplicates — people who might have had the inauguration playing on their television and also following along on their phones or tablets.
At one point, Spicer got into an extended back-and-forth with a reporter over what, exactly, he meant in the statement on Saturday.
The reporter asked if he was "retracting your claim on Saturday that it was the largest crowd in person for the inauguration?"
After some chatter, Spicer responded, "I didn't say in person. Both in person and around the globe, to witness it."
"You're saying those together?" the reporter asked
"I don't know how you can interpret it differently," Spicer said. "That's literally what I said. To witness it in person and around the globe. Total audience, yes."