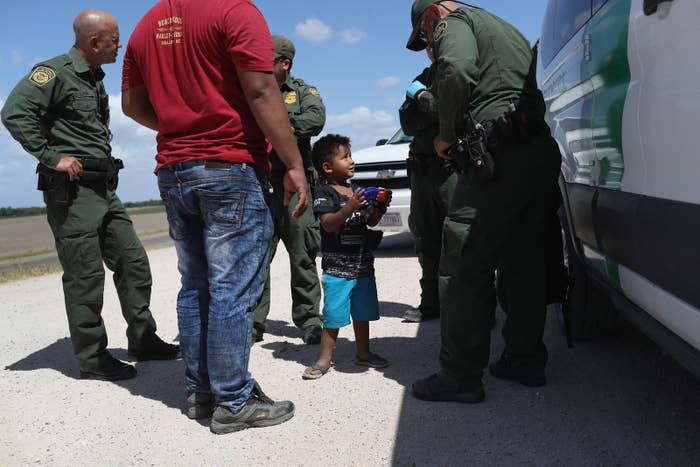 President Donald Trump on Tuesday equated migrants and refugees to the United States with vermin who will "pour into and infest our country."
Trump's comments came as he continues to defend his "zero tolerance" immigration policy where children are separated from families at the border because adults are immediately prosecuted. It's also his latest comment in a yearslong campaign to paint immigrants as subhuman.
The Trump administration has so far defended the controversial policy with contradictory statements, incomplete statistics, and with the president using incorrect information to support his argument.

"Democrats are the problem. They don't care about crime and want illegal immigrants, no matter how bad they may be, to pour into and infest our Country, like MS-13. They can't win on their terrible policies, so they view them as potential voters!" he tweeted Tuesday.
Trump's tweet also used a broad brush to paint every immigrant as a criminal or potential criminal.
Following the release of images and video of children held in cages at the border — as well as audio of children desperately begging for their parents after being separated at the border — several Republican senators condemned the practice. A few of them pointed out that the Trump administration, not Congress, can end the mass family separation issue immediately.
On Tuesday, Homeland Security officials said they separated 2,342 children from their parents along the US–Mexico border between May 5 and June 9.

Officials said there are no current plans to increase the number of facilities or shelters for children, saying they hope additional resources will not be necessary in the future.
"We expect the new policy will result in a deterrence effect," said Steve Wagner, acting assistant secretary at Health and Human Service's Administration for Children and Families.
Despite the administration's insistence that the practice is not new and not created as a deterrence, Wagner twice called the policy "new" during a call with reporters Tuesday.
When asked how many children have been reunited with their parents or a sponsor, Wagner said he did not immediately have that number.
"I could look into it, this policy is relatively new, and we are still working through the experience of reuniting kids with their parents after adjudication," he said.
Later on Tuesday, speaking at small businesses event in Washington D.C., Trump again blamed Democrats for family separation, saying it's "a result of Democrat supported loopholes in our federal laws."
"These are crippling loopholes that cause family separation, which we don't want," he said.
Echoing his earlier tweets, the president also conflated migrants with criminals by talking about the "disgraceful" amount of drugs coming in from the southern border.
"Child smugglers exploit the loopholes and they gain illegal entry into the United States, putting countless children in danger on the perilous trek to the United States," Trump said.
The president also repeated incorrect statistics that German crime rates have increased.
"They allowed millions of people in," Trump said of Germany. "By the way, their crime from the time they started is up more than 10%. That's one of the reasons it's at that level, is because they don't like reporting that kind of crime, so they put it down as a different kind of crime."

The administration has been pushing the idea that asylum seekers can apply to enter the country through designated points of entry — which are backed up and don't have the appropriate resources to process everyone.
People fleeing violence and threats are camping out near US ports of entry for days after being told by US border agents they are at capacity and can't process any asylum-seekers.
"They have to sleep there during the night, some for as long as 12 days," Oregon Sen. Jeff Merkley told BuzzFeed News Monday. "They're being blocked at official points and being blocked at the unofficial points if they're seeking asylum. They're really shutting our borders down for those seeking asylum."
Lee Gelernt, Immigrants' Rights Project deputy director for the ACLU called the administration's suggestion of using ports of entry "misleading."
"They're telling people to go to ports of entry but most people are not getting to apply for asylum when they show up," Gelernt said during a call with reporters Tuesday.
"They're not making it feasible," he said.
The administration has also faced bipartisan backlash from around the country. In a letter sent to Attorney General Jeff Sessions and Department of Homeland Security Secretary Kristjen Nielsen, 21 attorneys general demanded the Trump administration end the family separation policy.
"The practice is contrary to American values and must be stopped," the letter reads.
On Monday, at least three state governors — for Massachusetts, New York, and Colorado — rescinded their promise to deploy National Guard troops and other resources to the US–Mexico border to protest the policy of separating children from their parents.
Still, Trump and members of his cabinet continue to defend the practice as "the law" — falsely claiming it's not a new policy and that it was created by Democrats. Instead, the increase in family separation, which has seen hundreds of immigrant children detained and kept apart from their parents, comes from a zero tolerance policy introduced by the Trump administration and Sessions.
This is a developing story. Check back for updates and follow BuzzFeed News on Twitter.