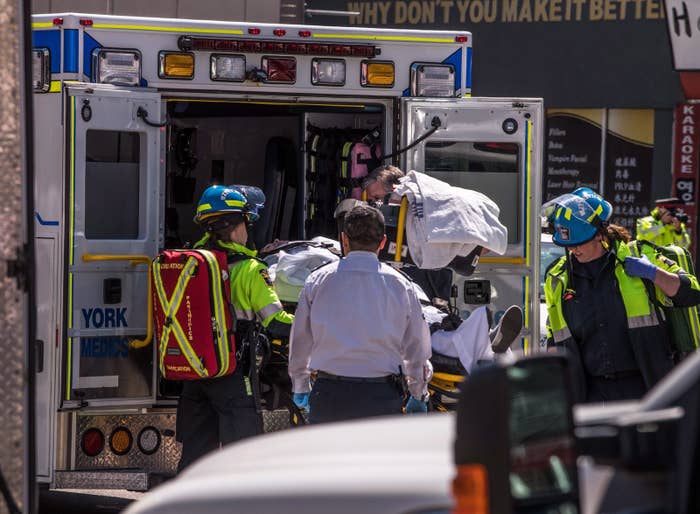 At least 10 people were killed and 15 others injured Monday when a driver behind the wheel of a rental van mounted a sidewalk on a bustling Toronto street and slammed into pedestrians in an apparently deliberate attack.
The incident began just before 1:30 p.m. near Yonge Street and Finch Avenue, when the driver steered the van onto the street and sidewalk, striking dozens of pedestrians before eventually coming to a stop after about a kilometer away, said Toronto Police Service Chief Mark Saunders.
"There were a lot of pedestrians out enjoying, a lot of witnesses out enjoying the sunny afternoon," said Toronto police deputy chief Peter Yuen.

The death toll steadily climbed in the hours after the incident, and Saunders said that as of 8 p.m. 10 people had died and 15 others were injured. He did not identify the victims, but Dr. Dan Cass — executive vice president at Sunnybrook Hospital, which received 10 trauma patients — told reporters that all of the victims at his facility were adults.
The driver, identified by police as Alek Minassian, 25, from Richmond Hill, Ontario, was taken into custody. Saunders said Minassian, who was not previously known to the police department, was arrested "without incident."
Minassian appeared in court on Tuesday morning, where he was charged with 10 counts of murder and 13 counts of attempted murder. He will be held in custody until his next hearing on May 10.
A spokesperson for the Toronto Police Service said authorities do not yet know the motive behind the attack, but Saunders said the "action definitely looked deliberate."

"It looks intentional" at this time, he added, noting that the investigation is ongoing.
The attack did not appear to be part of an organized terror plot that posed a risk to national security, said Ralph Goodale, Canada's Minister of Public Safety.
"On the basis of all available information at the present time there would appear to be no national security connection to this particular incident," Goodale told reporters Monday evening.
When asked if the incident was a hate crime or an attempt to deliberately target a minority community, Saunders said, "I have nothing that tells me that right now."
A witness to the attack, Amir Bahneyeh, told BuzzFeed News he saw the van driving fast and zigzagging before striking pedestrians. People at the scene were screaming and running inside buildings, he said.
A BuzzFeed News reporter at the scene saw two bodies covered with an orange tarp on the sidewalk.

Several people tweeted dramatic video of a police officer confronting the driver, who repeatedly pointed an object at the officer in a rapid motion, before he was taken into custody.
"Get down," the officer repeatedly shouted at the suspect.

"Kill me," the suspect responded, while pointing a dark object at the officer.
"No, come on, get down," the officer replied.
"I have a gun in my pocket," the suspect claimed.

"I don't care, get down. Get down or you'll be shot," the officer said.
"In the head," the suspect replied before eventually surrendering.
No gun was recovered at the scene, Saunders later said.
Photos of the van after the attack showed its front end smashed. Ryder, the rental company that owns the van, said in a statement to BuzzFeed News that it was saddened by the incident and was cooperating with authorities.
The incident — which appeared to be the deadliest use of a vehicle to attack pedestrians in Canada — follows a spate of recent incidents in which individuals have deliberately driven cars or trucks into crowds of people, including fatal attacks in New York, Barcelona, Nice, and Germany.
In Canada, a man in Edmonton used a U-Haul as part of an attack last October that injured five people, including a police officer who was stabbed. In 2014, a driver in Montreal struck two members of Canada's armed forces, before being shot and killed by police.
Saman Tabasinejad, who was in the area shortly after the collision Monday, shared a video from the scene:

Others shared images from the scene on Snapchat:

Canadian Prime Minister Justin Trudeau tweeted his thanks to first responders and said his "thoughts are with all those affected by the terrible incident at Yonge and Finch in Toronto."

The White House wished a "full recovery to those injured" and said that the US "stands with the Canadian people in the aftermath of today's tragic event in Toronto."

Toronto Mayor John Tory expressed sympathy for the victims and urged people to avoid speculation while police conduct an investigation.
"Our city denounces this and all acts of violence and we are united in our grief over this devastating loss of life," Tory said, adding, "we should show the world that Toronto is a city that will not be cowed, will not be afraid, and will not waver in the values we hold dear."
On Monday night, the Toronto Maple Leafs held a moment of silence before their playoff game with the Boston Bruins, darkening their stadium before inviting the crowd to join in singing Canada's national anthem.
"Earlier today our city was impacted by a horrific incident," the announcer said. "Our thoughts and prayers are with the victims, their families, our first responders, and to all of those affected. All of Toronto is with you."
CORRECTION
Five people were injured in the Edmonton attack last year. An earlier version of this article said five people were killed in the attack.