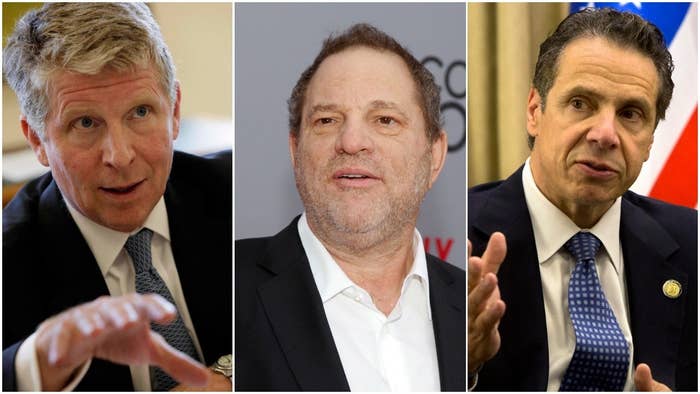 Time's Up — the legal defense fund started this year in light of the #MeToo movement — has called on New York Gov. Andrew Cuomo to investigate reports that Manhattan District Attorney Cyrus Vance mishandled a sexual assault investigation into Harvey Weinstein in 2015.

The letter, first reported by the Cut, calls on the governor to review why Vance's office did not prosecute Weinstein after Italian model Ambra Battilana filed a report with the NYPD alleging she had been groped and harassed by the Hollywood mogul.
NYPD investigators convinced Battilana to meet with Weinstein again while wearing a wire to record their conversation. The New Yorker published the recording from the sting operation in October 2017. On the tape, Weinstein can be heard admitting to groping Battilana, saying, "I'm used to that. Come on. Please. ... I won't do it again."
A NYPD source told the New Yorker they had "more than enough evidence to prosecute Weinstein," but Vance reportedly decided not to move forward in the case under the premise that there wasn't enough to support a criminal charge.

The Time's Up letter was sent after New York Magazine reported on Vance's handling of the case. According to the report published last week, Vance's office allegedly worked to undermine Battilana because they were "gun-shy" about prosecuting high-profile defendants.
"Reports that District Attorney Cyrus could have been improperly influenced by Mr. Weinstein and/or his representatives, and that senior officials within the DA's office may have sought to intimidate Battilana are particularly disturbing and merit investigation," the Time's Up letter reads. "Similarly, reports that the New York Police Department chose to isolate Battilana from Vance's staff because they feared his office was actively working to discredit her story demand immediate scrutiny."

Danny Frost, a spokesperson for the Manhattan district attorney's office says the New York Magazine story "bears little resemblance to the facts."

"The idea that our office would shrink from the challenge of prosecuting a powerful man is belied by our daily work and unparalleled record of success on behalf of sexual assault survivors," Frost said in a statement.

The statement went on to explain how police and prosecutors play different roles in the justice system and have different standards of proof that govern their work.
"From time to time we'll have our disagreements, but we will never allow them to undermine this shared endeavor," the statement reads.
But Cuomo's office on Monday said the governor had directed state Attorney General Eric Schneiderman to begin reviewing the 2015 case in a way that does not interfere with Vance's current investigation, which is expected to be completed within the next 45 days. At that point, the attorney will review the entire matter, Cuomo's office added.
"The recent revelations about sexual assault and harassment pervasive in our society are most disturbing," Cuomo said in the statement. "This behavior must end."
Schneiderman said in a statement that he is "deeply familiar with Harvey Weinstein's years of egregious sexual abuse," and cited a civil rights lawsuit his office recently filed against the producer's failed former company.
"We are committed to pursuing a full, fair, and independent review of this matter," he added.
Frost, the spokesperson for the district attorney said in a statement Monday evening, that the DA's office would "provide the Attorney General with any necessary information, and expect that he will promptly determine that our Office has been guided solely by the facts and the law."
A lawyer for Weinstein said in statement that he's "stunned" New York Magazine reported Battilana's complaint without including the fact that in a sworn affidavit, she stated "in substance that her complaint against Harvey was the result of a misunderstanding and that her decision to report the incident to the police, was attributed by her to 'bad advice' she received."
"NY Magazine also failed to mention the fact that her affidavit was reviewed by her and her own attorneys, including her long time Italian lawyer before she signed it under oath," the lawyer added.
The letter raised concerns about the reported strained relationship between the NYPD's special victims unit and the district attorney's sex crimes unit, which may make it less likely that a sex assault victim will come forward to file reports against the rich and powerful.

"Greater awareness of sexual abuse crimes is essential, but it is hollow and can even be a deterrent if survivors cannot access justice through fair and unbiased prosecution," the Time's Up letter states.
In a joint statement sent late Monday, however, Vance and New York City Police Commissioner James O'Neill said the NYPD and the Manhattan DA's office are "fully committed partners in the investigation and prosecution of sexual assault."
New York Magazine's account, the statement said, "does not represent the strong partnership between the NYPD and Manhattan DA Cy Vance's Office, and our unparalleled track record of holding sexual predators from all backgrounds accountable in thousands of sex crimes cases that we have successfully brought together."
Weinstein still also faces potential criminal charges in California and the UK following investigations by the New York Times and the New Yorker that revealed decades of sexual harassment and assault allegations against the now-disgraced producer. He also faces multiple civil lawsuits regarding allegations of sexual assault.
"As has been widely reported, our investigation of Mr. Weinstein is active and ongoing. It would therefore be inappropriate to comment further," Vance's office said.