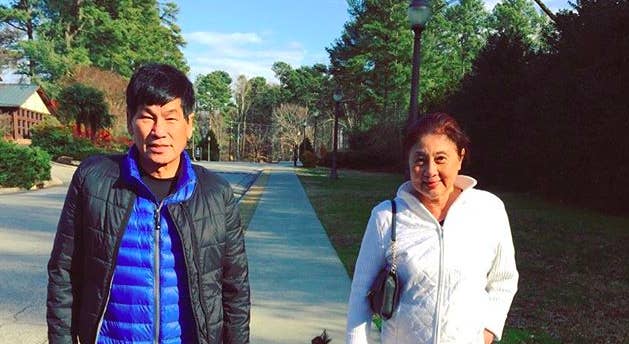 The man shown in a now-viral video being pummeled and dragged off a United Airlines plane after the flight was overbooked told a local television station he was not doing well as he recovered in a Chicago hospital.

David Dao told WLKY that "everything" was injured following the incident. Video posted to Twitter and Facebook shows Dao's face bloodied following his removal from the aircraft.
Dao was on a flight from Chicago to Louisville when he and his wife were told they would need to give up their seats to make room for United staff who needed to board the flight to Kentucky.
The videos sparked outrage online and on Monday the Department of Transportation said it was reviewing whether United followed consumer protection regulations.
An attorney for Dao's family thanked those who had offered support and added the family would not be speaking publicly until he was released from the hospital.
"The family of Dr. Dao wants the world to know that they are very appreciative of the outpouring of prayers, concern and support they have received. Currently, they are focused only on Dr. Dao's medical care and treatment," said Stephen L. Golan of Golan Christie Taglia in a statement.
Dao and his wife Teresa are both doctors in Elizabethtown, Kentucky — about 40 miles south of Louisville — according to the Louisville Courier-Journal. He has five children and appears to have several grandchildren.
Dao went to medical school in Vietnam before moving to the United States. His wife is a pediatrician and four of his five children are doctors, according to the Daily Mail.
The doctor appears to be a successful poker player, having placed well in a number of tournaments including one in 2009 where he came in second place, taking home more than $170,000. In the past 10 years, Dao has made more than $230,000 playing poker.
With Dao's identity being revealed Tuesday by the Courier-Journal, so were his past legal troubles — something many people on social media said is irrelevant to the incident.
Dao, who specializes in pulmonary disease, faced 98 charges of illegally prescribing and trafficking prescription painkillers in 2003, following an investigation by the Kentucky Board of Medical Licensure. The probe found that Dao and an accomplice had been trading prescription drugs for sex.
Dao was convicted of several charges, including obtaining drugs by fraud or deceit, leading him to surrender his medical license for 10 years.
According to the Courier-Journal, the Kentucky Board of Medical Licensure allowed Dao to resume practicing medicine in 2015.
Some people slammed the newspaper for reporting on Dao's past, saying it doesn't change what happened at Chicago's O'Hare airport.
Joel Christopher, the executive editor of the Courier-Journal, defended the newspaper's decision to report on Dao's past, telling BuzzFeed News it was a case where "the national audience, without context, was jumping to an incorrect conclusion."
"This is an individual who, because of his past case, is known to people in the area," he said. "Referring to him without referring to [his past] would be highly unusual."