The Israeli-American teen charged with making bomb threats and active shooter threats to several Jewish Community Centers across the country allegedly advertised an email service that would send bomb threats to schools on an online black market, according to recently unsealed federal court documents.
Michael Kadar, 18, was charged in April with allegedly making 245 threatening calls between Jan. 4 and March 7 to organizations around the US that targeted JCCs, other historical Jewish institutions, and Anti-Defamation League offices.
According to a recently unsealed search warrant for computer servers hosting AlphaBay — the now-shuttered Dark Web market — Kadar allegedly advertised a "Second Email Bomb Threat Service" on the marketplace in which he charged $30 for a bomb threat emailed to a school. For an additional $15, Kadar offered to frame someone for the threat.
"There is no guarantee that the police will question or arrest the framed person," Kadar allegedly wrote in the online ad. "I just add the persons [sic] name to the email. In addition in my experience of doing bomb threats putting someones [sic] name in the emailed threat will reduce the chance of the threat being successful. But it's up to you if you would like me to frame someone."
The search warrant was unsealed by a federal court on July 19 — a day before the Justice Department announced that AlphaBay was shut down — and was first tweeted by Seamus Hughes, the deputy director of the Program on Extremism at George Washington University, on Monday.

The search warrant was initially sealed because it was "relevant to an ongoing investigation into the criminal organizations as not all of the targets of this investigation will be searched at this time."

In the online ad, Kadar allegedly wrote that he is "available most of time to make bomb threat emails," adding that he has the right to refuse to do the work.
The ad indicates that he had saved text for bomb-threat emails, but offered that his clients may customize the message if they prefer.
In the online ad, Kadar allegedly offered refunds if the threats were unsuccessful —factors of success included a news article or a Facebook post about it.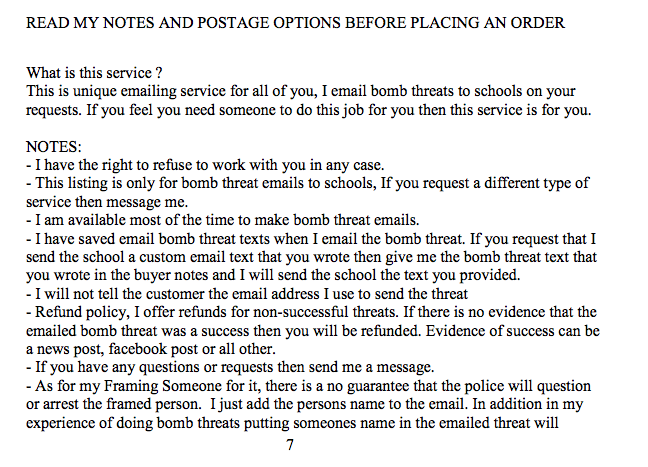 Kadar's alleged profile on AlphaBay received a positive review from someone who praised him for being "on time and on target."
"We got evacuated and got the day cut short," read a comment posted on March 9. A day earlier, Rancho Cotate High School in California was evacuated and students left school early after officials received a bomb threat.
It is unclear from the document how many people purchased the email service.