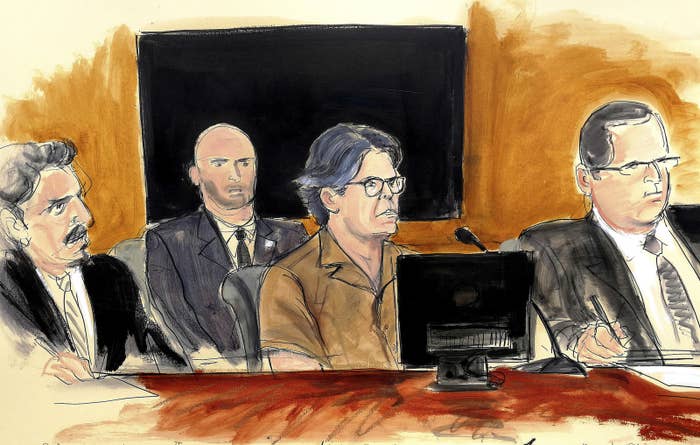 Keith Raniere, the founder of the self-help group NXIVM that prosecutors say was hiding a secret sex cult, was denied bail Tuesday by a Brooklyn federal judge who deemed him a flight risk.
Raniere is charged with sex trafficking, sex trafficking conspiracy, and forced labor conspiracy. He and codefendant Allison Mack, the former star of Smallville, face a minimum of 15 years in prison and could potentially receive life if convicted.
Raniere, known to his followers as "Vanguard," allegedly wielded his status as a powerful, self-proclaimed guru to coerce, manipulate, and entrap women into a "master–slave" sexual relationship, in which they were often forced to follow strict diets, respond to his call at all hours of the night, and even brand themselves with his initials, according to a federal criminal complaint.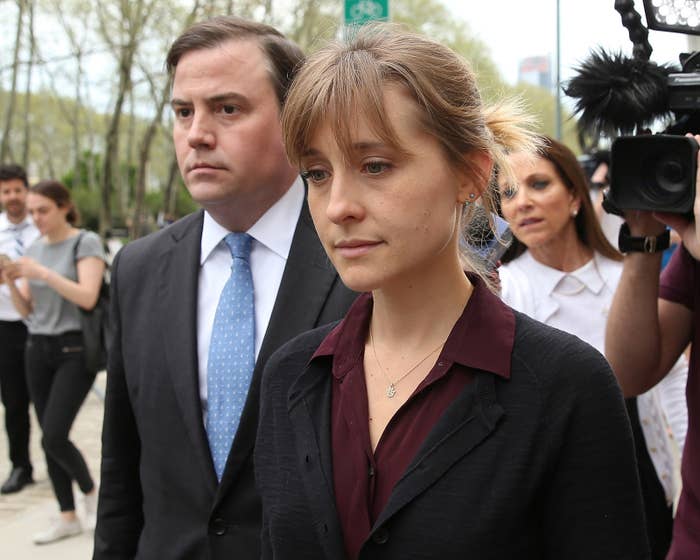 Raniere's lawyers, who last week applied to post $10 million bail, expanded on the details of the proposed release conditions during a hearing Tuesday.
Raniere's lawyer, Marc Agnifilo, said a trust fund financed by a secret backer was established to pay for Raniere's bail as well as to rent him an apartment that would be guarded by two armed former law enforcement officers.
When Judge Nicholas Garaufis called the idea of armed guards "absurd," Agnifilo said his client would consent to physical force being used on him, but not lethal force.
"So you need a couple of karate experts," Garaufis responded.
Judge Garaufis took issue with the unnamed benefactor saying that because it's not his money, Raniere "has nothing to lose" in the proposed bail package.

"The question becomes ... how does it guarantee your client will not get on a plane at Teterboro airport, fly on a private plane to a place where he gets off — no one knows where he is — and he's gone," Garaufis said.
Agnifilo said the proposed bail application is "admittingly unorthodox" but "effective."

Judge Garaufis also disagreed with the idea of "people with lots of money setting up a private jail with all kinds of amenities," saying it "makes a mockery of the system of justice when other people can't pull together $100 to get out of Rikers."
The prosecutors in the case argued against Raniere being let out of jail, saying the person funding Raniere has "unimaginable and limitless wealth."

While prosecutors and the judge said that they have not been told who is providing the money for Raniere's defense, they alluded to their suspicions of it being Clare Bronfman, an heir to the Seagram's liquor fortune, based on a recent New York Times Magazine story. Bronfman did not immediately respond to BuzzFeed News' request for comment.
"This person is equally capable to live off the grid," the prosecutor said, adding that Raniere would pose a danger to victims and witnesses of the case if he was to be released from prison.
Ultimately Judge Garaufis denied bail, saying the charges in the case are too serious and Raniere poses too much of a flight risk. Garaufis left open the possibility for Raniere's lawyers to reapply for bail if they are more transparent about who is funding it.
Raniere's next court hearing was scheduled for July 25.
Mack was released on bail under strict house arrest conditions in April.
A post on the NXIVM website on Tuesday said the group had suspended activities.
"While we are disappointed by the interruption of our operations, we believe it is warranted by the extraordinary circumstances facing the company at this time," the website reads. "We continue to believe in the value and importance of our work and look forward to resuming our efforts when these allegations are resolved."