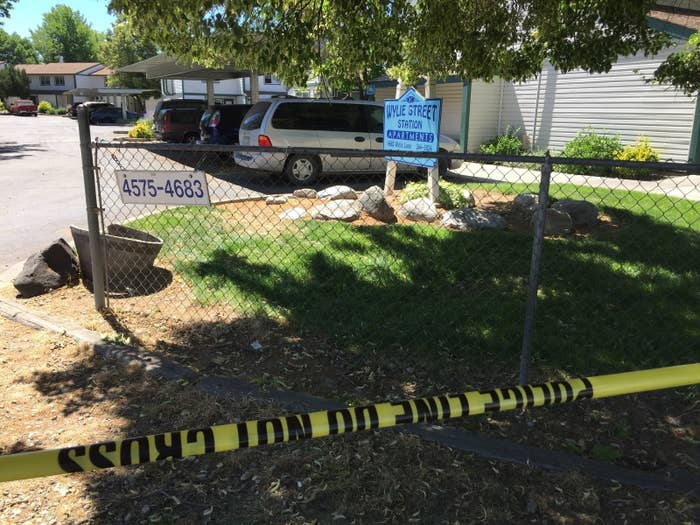 The 3-year-old child who was stabbed during an attack Saturday at her birthday party in Boise, Idaho, died from her injuries on Monday.

"It is with deep sorrow we share the news that she has passed away today," the Boise Police Department said in a statement.
The girl, who was identified as Ruya Kadir, was celebrating her birthday with friends and family at an apartment complex when the suspect, 30-year-old Timmy Earl Kinner of Los Angeles, allegedly attacked nine people. Police said that some of the victims were refugees who had "fled violence from Syria, Iraq and Ethiopia."
In addition to Ruya, the wounded children are ages 4, 6, 8, and 12, police said. Three adults were also hurt when they tried to stop the attacker.
Ruya and her mother are Ethiopian refugees who arrived in the US in December 2015, and settled in Boise, the International Rescue Committee, which helped place the Kadirs and has been working with other victims, said in a statement Monday. The girl's father is in Turkey.
"Our caseworkers describe Ruya as a child who always sparkled when she walked into a room. She was her mother's princess, always the center of attention, and loved pink and Disney princesses," David Miliband, IRC's president, said in the statement, calling her the "epitome of sweetness."

Now, her parents are enduring "every parent's worst nightmare," Miliband said.
Her mother, stunned and reeling from the loss, had recently graduated from a job training program through Full Circle Exchange and has been working at a local grocery store, Mark Priddy, who heads the program, told BuzzFeed News.

"She was so proud of graduating and knowing that she had value and could offer that to the community and the world," he said. "Her daughter was there and it was so moving because they came on their own here and were making it.
"Ruya was everything to her and helped give her strength. They were in this together."
The Boise community has banded together to support the victims, raising thousands of dollars to help fund their medical bills and place them in temporary housing. On Monday, thousands of people gathered in the streets surrounding City Hall to honor Ruya and the other victims of the attack.
Of the other victims, one child has been treated and released from the hospital, police said Monday. Seven victims remain hospitalized with serious or critical injuries. Police have not released their names.

Bearing flowers, teddy bears, and cards, Priddy said dozens of people have stopped by the apartment to offer support.
"We don't see them as refugees they are our neighbors and members of the community," he said. "The sad and hard part of this is that they have gone through so much trauma already and for them to now have to question their place of safety is heartbreaking. We are working on reminding them that they are safe and important and loved and have value here."
Kinner was initially charged with nine counts of aggravated battery and six counts of injury to a child. According to the Associated Press, he was charged with first-degree murder following the girl's death.
At a press conference Sunday, Boise Police Chief William Bones said that Kinner had been staying in the apartment complex for a few days but was asked to leave Friday "due to his behavior."

He returned Saturday evening "to exact vengeance, not just on those he had been with, but at any target which was available," Bones said, including attacking children at the children's birthday party a few doors down from where he had been staying.
The violent attack has shaken the Idaho city, which has become a destination for refugees and is officially recognized as a resettlement community. Close to half of the city's refugee population comes from Ethiopia, according to the Office for Refugees in Idaho, and most are women and children.

Hoping to quell the nerves of residents at a time when the national discourse about migrants and refugees has become particularly fraught and polarizing, Boise Mayor David Bieter reiterated that Kinner's actions do not reflect how the city feels toward its refugee community.

"Our city has long stood as a welcoming city, a place of safety and kindness for those fleeing violence and oppression in their homelands," Bieter said. "As Boiseans, we come together not only to condemn this vile act but also to embrace those among us seeking refuge from tyranny, suffering and war. It is who we are and who we will continue to be."

The IRC is spearheading fundraising efforts for the families.